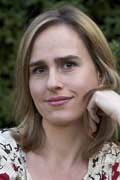 Jessica Fisher and Margaret Ronda
14 JUNE 2012 — thursday
Poetry Flash presents a reading by Jessica Fisher and Margaret Ronda, Moe's Books, 2476 Telegraph Avenue, Berkeley, 7:30 (510/849-2087, www.moesbooks.com; wheelchair accessible, ASL interpreters for the deaf and hearing impaired may be requested a week in advance by email, editor@poetryflash.org)

More about the readers
Jessica Fisher's new book of poems is Inmost. Louise Glück says of it, "Her poems are analytic meditations, their variety and beauty manifestations of extraordinary sensitivity to English syntax." Her first book, Frail-Craft, was chosen by Louise Glück for the 2006 Yale Younger Poets Award and was a finalist for the Northern California Book Award.
Margaret Ronda's first book of poems is Personification; it was chosen for the Saturnalia Books Poetry Prize by Carl Phillips, who says, "The poems of Personification fascinate—as in, bind fast—the reader with their invitation to join "a pilgrim's journey chastened by ruin…Here is a strange and arresting vision, indeed."
Daily Listings
Live events are probably postponed or canceled. Please check back for updates or contact the organizers.
< previous month | show all JUNE | next month >
5 JUNE 2020 — friday
6 JUNE 2020 — saturday
7 JUNE 2020 — sunday
8 JUNE 2020 — monday
9 JUNE 2020 — tuesday
10 JUNE 2020 — wednesday
11 JUNE 2020 — thursday
12 JUNE 2020 — friday
13 JUNE 2020 — saturday
14 JUNE 2020 — sunday
15 JUNE 2020 — monday
16 JUNE 2020 — tuesday
17 JUNE 2020 — wednesday
18 JUNE 2020 — thursday
19 JUNE 2020 — friday
20 JUNE 2020 — saturday
21 JUNE 2020 — sunday
22 JUNE 2020 — monday
23 JUNE 2020 — tuesday
24 JUNE 2020 — wednesday
25 JUNE 2020 — thursday
26 JUNE 2020 — friday
27 JUNE 2020 — saturday
28 JUNE 2020 — sunday
29 JUNE 2020 — monday
30 JUNE 2020 — tuesday