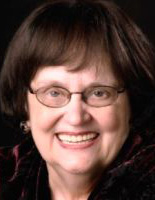 Maria Mazziotti Gillan
Maria Mazziotti Gillan and Sotère Torregian
13 SEPTEMBER 2012 — thursday
Poetry Flash presents a reading by Maria Mazziotti Gillan and Sotère Torregian, wheelchair accessible, request ASL interpreters one week in advance from editor@poetryflash.org, Moe's Books, 2476 Telegraph Avenue, Berkeley, 7:30 (510/849-2087, moesbooks.com)

More about the readers
Maria Mazziotti Gillan's new book of poems is The Place I Call Home. Hal Sirowitz says, "Her masterful book, The Place I Call Home, is more about redeeming the past—finding grace in the details—than about nostalgia.…It's like she has created a large tapestry of her life—every thread is important. I'm man enough to admit that some of these poems made me cry." She's published fourteen books of poetry, including Italian Women in Black Dresses and What We Pass On: Collected Poems 1980-2009. The founder/Executive Director of the Poetry Center at Passaic County Community College in Paterson, New Jersey and editor of the Paterson Literary Review, her honors include a 2008 American Book Award and a Barnes & Noble Writers for Writers Award from Poets & Writers.
Sotère Torregian's new book of poems is On the Planet Without Visa. Anne Waldman calls him, "One of our most radically original poets." Torregian was born in Newark, of Ethiopian, Arabic, Greek, Armenian, and Moorish ancestry. Affiliated with French Surrealist poets and associated with the New York School of poets and painters, he's published eight books of poetry; he was also one of the founders of the Afro-American Studies program at Stanford University in 1969.