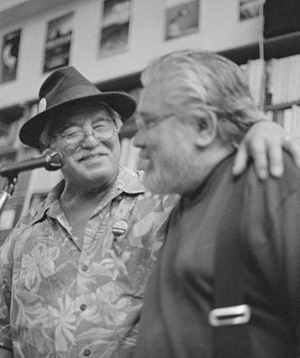 Bill Sorro, with his arm around Peter Yamamoto.
Photo by Steven C. Wilson.
Steven C. Wilson Photo Exhibit at International Hotel Commemoration
4 AUGUST 2018 — saturday
The International Hotel Eviction Commemoration remembers the night in 1977 when seniors were evicted from the original hotel and protests took place over the destruction of the last vestige of San Francisco's once prospering Manilatown; that historic event foretold the San Francisco housing crisis; the Commemoration features the opening for an exhibit of I Hotel "Family Portraits," historic black and white photographs by photographer Steven C. Wilson; exhibit runs from August 2-30, International Hotel Manilatown Center, 868 Kearny Street, between Washington Street and Jackson Street, San Francisco, 4:00-6:00 (415/291-0175, manilatown.org)
Daily Listings
Live events are probably postponed or canceled. Please check back for updates or contact the organizers.
< previous month | next month >
1 APRIL 2020 — wednesday
2 APRIL 2020 — thursday
CENTRAL:

Lunch Poems series presents a reading by poet and translator Mary Jo Bang, author of eight books of poetry, including Elegy, winner of the Natonal Book Critics Circle Award, and a translation of Dante's Inferno, illustrated by Henrik Drescher, Morrison Library, 101 Doe Library, University of California campus, Berkeley, free, 12:10-12:50 (lunchpoems.berkeley.edu)
Fanny Singer, co-founder of the design brand Permanent Collection, and co-author and illustrator of My Pantry: Homemade Ingredients That Make Simple Meals Your Own: A Cookbook, with her mother Alice Waters, launches her new cookbook and culinary memoir, Always Home: A Daughter's Recipes & Stories, with a foreword by Alice Waters, Moe's Books, 2476 Telegraph Avenue, Berkeley, 7:00 (www.moesbooks.com)
3 APRIL 2020 — friday
4 APRIL 2020 — saturday
5 APRIL 2020 — sunday
6 APRIL 2020 — monday
CENTRAL:

Poetry Express presents a featured poetry reading, open mic before and after, hosted by Elaine Brown, Himalayan Flavors Restaurant, 1585 University Avenue, Berkeley, free but donations appreciated, 7:00-9:00 (poetryexpressberkeley.blogspot.com)
7 APRIL 2020 — tuesday
8 APRIL 2020 — wednesday
9 APRIL 2020 — thursday
10 APRIL 2020 — friday
NORTH:

Poetry Connection reading series presents Albert Flynn DeSilver and Judy Halebsky, hosted by Terry Lucas, Marin County Poet Laureate, open mic to follow, light refreshments, The Fireside Room, 240 Channing Way, San Rafael, free, 7:00-9:00 (www.terrylucas.com/schedule.html)
11 APRIL 2020 — saturday
12 APRIL 2020 — sunday
13 APRIL 2020 — monday
CENTRAL:

Poetry Express presents a featured poetry reading, open mic before and after, hosted by Jim Barnard, Himalayan Flavors Restaurant, 1585 University Avenue, Berkeley, free but donations appreciated, 7:00-9:00 (poetryexpressberkeley.blogspot.com)
14 APRIL 2020 — tuesday
15 APRIL 2020 — wednesday
EAST:

The Distinguished Writers Series presents a poetry reading by Ilya Kaminsky, Deaf Republic, a finalist for the National Book Awards 2019, joined by student winners of the DeClercq Poetry Contest, Q&A and book signing to follow, sponsored by the Creative Writing Program, California State University, East Bay, Library, Biella Room, 25800 Carlos Bee Blvd., Hayward, free and open to the public, 6:00-7:00 (www.csueastbay.libcal.com)
16 APRIL 2020 — thursday
17 APRIL 2020 — friday
18 APRIL 2020 — saturday
19 APRIL 2020 — sunday
20 APRIL 2020 — monday
CENTRAL:

Poetry Express presents a featured poetry reading by Tony Aldarondo, Puerto Rican writer, actor, and musician, open mic before and after, hosted by Bruce Bagnell, Himalayan Flavors Restaurant, 1585 University Avenue, Berkeley, free but donations appreciated, 7:00-9:00 (poetryexpressberkeley.blogspot.com)
21 APRIL 2020 — tuesday
22 APRIL 2020 — wednesday
23 APRIL 2020 — thursday
24 APRIL 2020 — friday
CENTRAL:

Cafe Society presents a reading and discussion with Pulitzer Prize-winning poet Forrest Gander, Be With, and Tess Taylor, reading from her new book of poetry Rift Zone, Kaleidoscope Coffee, 109 Park Place, Point Richmond, 7:00-9:00 (www.kaleidoscopecoffee.com)
25 APRIL 2020 — saturday
CENTRAL:

Saturday Night Special, An East Bay Open Mic, monthly literary reading series, bring on/off theme poems, stories, comedy sketches, songs, or dances, three-minute maximum, theme announced at end of previous month's open mic, readings by two featured writers, hosted by Hollie Hardy and Tomas Moniz, last Saturday of every month, Nick's Lounge, 3218 Adeline Street, Berkeley, 21+, free but one drink minimum, cash only, sign up 7:00, show 7:00-9:30 (510/652-NICK, www.nickslounge.com)
26 APRIL 2020 — sunday
27 APRIL 2020 — monday
28 APRIL 2020 — tuesday
29 APRIL 2020 — wednesday
30 APRIL 2020 — thursday