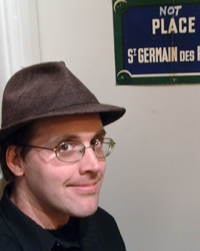 James Maughn and Matthew Shears
7 JULY 2011 — thursday
Poetry Flash presents a poetry reading by Matthew Shears, Where a road had been, and James Maughn, The Arakaki Permutations, Moe's Books, 2476 Telegraph Avenue, Berkeley, 7:30 (510/849-2087, www.moesbooks.com; wheelchair accessible, ASL interpreters for the deaf and hearing impaired may be requested a week in advance by email, editor@poetryflash.org)

More about the readers
James Maughn's new book of poems is The Arakaki Permutations. Joshua McKinney says of it, "James Maughn continues his uncompromising engagement with the catechisms of martial kata and their intersection with the forms of writing. Delving deeper into the heart of his own poems, he engages the particularities of technical application—of timing and distance—that comprise his own poetic waza, or practice. By disclosing the textures and subtleties of language, even to the level of the syllable, Maughn illuminates the architecture of meaning. The result is a collection of remarkable poems that discover a boundless freedom within the structure of form." Maughn's first book of poems is Kata. He lives in Santa Cruz where he hosts A New Cadence Poetry Series and co-edits the literary arts journal Ping Pong, published by the Henry Miller Memorial Library.

Matthew Shears first book of poems is Where a road had been. Claudia Keelan says of it, "…Matt Shears tenderly engages a syntax of wholeness. Dedicated solely to the process of re-membering, this debut collection locates an aboriginal utterance, a native and loving sound that, remarkably, erases all thought of Otherness." His poetry can be found in Cutbank, Notre Dame Review, and Boston Review; portions of Where a road had been can be found online at Cricket Online Review, Alice Blue Review, and BlazeVOX. He contributed a nonfiction essay, "Kettleman City" to The Devil's Punchbowl: A Cultural & Geographic Map of California Today, and he is currently at work on a book of poetry, some unclassifiable wildness and a novel. He teaches in the Creative Writing Program at California College of the Arts.