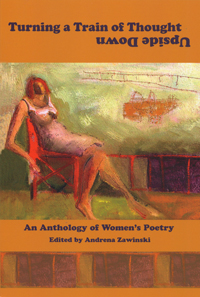 Celebrating Turning a Train of Thought Upside Down
7 JUNE 2012 — thursday
Poetry Flash at Moe's Books celebrates Turning a Train of Thought Upside Down: An Anthology of Women's Poetry with a reading by contributors Judy Bebelaar, Lucille Lang Day, Gail Rudd Entrekin, Christina Hutchins, and Janell Moon, Moe's Books, 2476 Telegraph Avenue, Berkeley, 7:30 (510/849-2087, www.moesbooks.com; wheelchair accessible, ASL interpreters for the deaf and hearing impaired may be requested a week in advance by email, editor@poetryflash.org)

More about the readers
This contributors reading by five accomplished Bay Area women poets is a celebration of Turning a Train of Thought Upside Down: An Anthology of Women's Poetry, which includes forty-one San Francisco Bay Area women poets in total. Grace Cavalieri, producer of NPR's "The Poet and the Poem" says, "Forty-one women are unarmed but dangerous. They can change your life with clarity, truth and power in equal measure. These poets, from the literary culture of San Francisco, make up an album of rich fabrics combining the ordinary and the magnificent. Intimate details and heightened temperaments give us more reason to care about poetry." Judy Bebelaar directs the Writing Teachers Write reading series at Expressions Gallery in Berkeley. Lucille Lang Day's recent poetry book is The Curvature of Blue; her memoir, Married at Fourteen, is forthcoming from Heyday. Gail Rudd Entrekin's new book of poems is Rearrangement of the Invisible; she is editor of Canary, an online literary journal of the environmental crisis. Christina Hutchins is a recent Poet Laureate of the City of Albany, Caliifornia; her new book of poetry is The Stranger Dissolves. Janell Moon is Poet Laureate of Emeryville; her most recent book is Salt and Paper: 65 Candles. The anthology's editor is Andrena Zawinski, who is also an award-winning poet and educator.