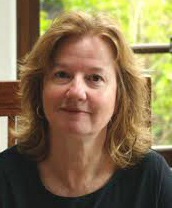 Gail Rudd Entrekin, Joan Baranow and David Watts
5 AUGUST 2012 — sunday
Poetry Flash presents a reading by Gail Rudd Entrekin, Joan Baranow and David Watts, Diesel, A Bookstore, 5433 College Avenue, Oakland, 3:00 (510/653-9965, dieselbookstore.com; wheelchair accessible, ASL interpreters for the deaf and hearing impaired may be requested a week in advance by email, editor@poetryflash.org)

More about the readers
Gail Rudd Entrekin's new book of poems is Rearrangement of the Invisible. Ellen Bass says, "Gail Rudd Entrekin's Rearrangement of the Invisible is both praise and eulogy, a cherishing of the moments of our lives and a sorrow song for their passing. Through it all we feel the force of her love—for her family and for all of us…An honest, intimate, and wise book." She is also co-publisher and poetry editor of Hip Pocket Press and editor of the online literary magazine of the environment Canary.
Joan Baranow's book of poems is Living Apart. Alicia Ostriker says of it, "Like a younger and more sensuous Mary Oliver…Joan Baranow turns and returns to lyric as to a quenchless source. To listen to her music precise and rich is like overhearing the multiple hum of life and loss in a complicated natural environment." Her poetry has been widely published in literary magazines. She and her husband David Watts produced the PBS documentary Healing Words: Poetry and Medicine; they have also co-edited the prose book The Healing Art of Writing: Volume One.
David Watts has two new books, At High Altitude: 31 Poems of 31 Words, winner of a Sunken Garden Poetry Prize, and The Color of Desire, a book of short poems that "pathway into the interior consciousness," written under is nom de plume of Harvey Ellis. He also has just released a CD, The Free Radicals, of poetry and jazz. He is a gastroenterologist, author of a number of prose books on the complexity of the doctor-patient relationship, a classically trained musician, and a television producer/host.