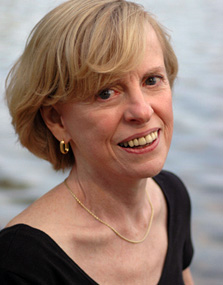 Martha Collins and Peter Neil Carroll
4 OCTOBER 2012 — thursday
Poetry Flash presents Martha Collins and Peter Neil Carroll, wheelchair accessible, request ASL interpreters one week in advance from editor@poetryflash.org, Moe's Books, 2476 Telegraph Avenue, Berkeley, 7:30 (510/849-2087, moesbooks.com)

More about the readers
These two poets, in their separate ways, will be exploring American history, geography, and politics. Martha Collins's new book of poems is White Papers. Afaa Michael Weaver says, "White Papers is a praise song for the truth. It bravely pulls back the covers of whiteness to offer us precious views of racial privilege.…The rhythmic tapestry of this remarkable work helps open the door to a healing that is long overdue." Among her other books of poems is Blue Front, winner of the Anisfeld-Wolf Book Award and chosen one of "25 Books to Remember from 2006" by the New York Public Library. Among her many other honors are three Pushcart Prizes, the Alice Fay Di Castagnola Award, and fellowships from the NEA and the Ingram Merrill Foundation.
Peter Neil Carroll's new book of poems is A Child Turns Back to Wave: Poetry of Lost Places, winner of Prize Americana. Charlotte Muse says of it, "Peter Neil Carroll, poet and historian, has gone to see America for himself. He has traveled through desolate, mysterious western places full of the spirit of vanished peoples, and gone watching, remembering, and imagining through the heartland and the South, to bring us back…a clear-eyed, passionate record of the tragic destruction of the land, the remnants of its beauty, the stunned responses of its forgotten inhabitants." His first book of poems is Riverborne. He is also the author of Keeping Time: Memory, Nostalgia, and the Art of History and We the People: A Brief American History.
Daily Listings
< previous month | show all JANUARY | next month >
24 JANUARY 2022 — monday
25 JANUARY 2022 — tuesday
26 JANUARY 2022 — wednesday
27 JANUARY 2022 — thursday
28 JANUARY 2022 — friday
29 JANUARY 2022 — saturday
30 JANUARY 2022 — sunday
31 JANUARY 2022 — monday