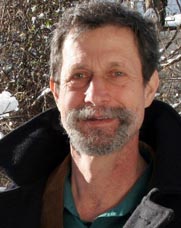 D. Nurkse and Richard Silberg
11 OCTOBER 2012 — thursday
Poetry Flash presents a reading by Richard Silberg and D. Nurkse, wheelchair accessible, request ASL interpreters one week in advance from editor@poetryflash.org, Moe's Books, 2476 Telegraph Avenue, Berkeley, 7:30 (510/849-2087, moesbooks.com)

More about the readers
D. Nurkse's new book of poems is A Night in Brooklyn. Anne Hamilton says, "D. Nurkse…seems to be weaving poetry's various movements toward a cohesive zenith, which takes him beyond categorization. He may be a contemporary poet, but his words will live after him." He's published nine previous books of poems, and his honors include an award from the American Academy of Arts and Letters and a Guggenheim Fellowship.
Richard Silberg's new book of poems is The Horses: New & Selected Poems. Tony Barnstone says, "Richard Silberg is a scat cat razzing and jazzing and boom-shika-booming down the page-stage.…These poems are timeriffs and deathrants and they are written with a profound humanity, and with a "crying so deep/ it was like coming/ bitter crying/ a crying sweet like milk." He has published five previous collections, most recently Deconstruction of the Blues, winner of a PEN Oakland- Josephine Miles Literary Award; he's Associate Editor of Poetry Flash.
Daily Listings
< previous month | show all JANUARY | next month >
24 JANUARY 2022 — monday
25 JANUARY 2022 — tuesday
26 JANUARY 2022 — wednesday
27 JANUARY 2022 — thursday
28 JANUARY 2022 — friday
29 JANUARY 2022 — saturday
30 JANUARY 2022 — sunday
31 JANUARY 2022 — monday