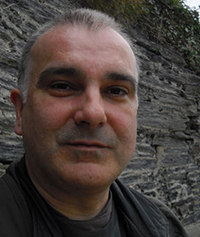 Patrick Cotter
Irish poets Patrick Cotter, Matthew Sweeney
16 APRIL 2013 — tuesday
Poetry Flash, Culture Ireland, and Moe's presents a reading by Irish poets Patrick Cotter and Matthew Sweeney, wheelchair accessible, request ASL interpreters one week in advance from editor @poetryflash.org, Moe's Books, 2476 Telegraph Avenue, Berkeley, 7:30 (510/849-2087, moesbooks.com)

More about the readers
Patrick Cotter was born in Cork in 1963 where he still lives. His published work includes several chapbooks, the verse novella The Misogynist's Blue Nightmare and the poetry collections, Perplexed Skin and Making Music. His work has appeared in many anthologies including Separate Islands: Contemporary British and Irish poetry, Irish Poetry Now, Jumping off Shadows - Some Contemporary Irish Poets (Cork University Press), The Irish Eros, The Backyards of Heaven, Something Beginning with P, and The Great Book of Ireland. His translations of the Estonian poet Andres Ehin are collected in the book Moosebeetle Swallow (Southword Editions). His play Beauty and the Stalker was produced at the Granary Theatre, Cork in 2000, and he has published short fiction in journals and newspapers.
Matthew Sweeney, born in Lifford, County Donegal in 1952, lives in Cork, Ireland. Sweeney has published not only many poetry collections for adults but also several poetry collections for children and two children's novels. Writing Poetry, which he co-wrote with John Hartley Williams, appeared in 1997, and he has co-edited two anthologies of poems. He has held several fellowships and writer-in-residence positions, most recently at University College Cork. He won the Prudence Farmer Prize in 1984, the Cholmondely Award in 1999, a Henfield Writing Fellowship in 1986, and several bursaries from the Arts Councils of Ireland and England. He was nominated for the T.S. Eliot award for Black Moon. Horse Music (Bloodaxe, 2013) is his most recent collection.