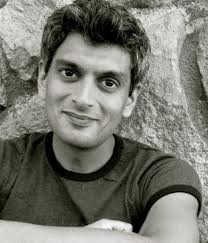 Kazim Ali
Kazim Ali, Tony Barnstone, and Willis Barnstone
5 MAY 2013 — sunday
Poetry Flash presents a reading by Kazim Ali, Tony Barnstone, and Willis Barnstone, wheelchair accessible, request ASL interpreters one week in advance from editor@poetryflash.org, Diesel, A Bookstore, 5433 College Avenue, Oakland, 3:00 (510/653-9965, dieselbookstore.com)

More about the readers
Kazim Ali's new book of poems is Sky Ward. Fanny Howe says of it, "In, out, secrecy, exposure. The book is resonant with the poetry of Hafiz and Rumi but stays grounded in the contemporary, especially in its candor and unease. But then the language and vision is also Romantic and pleasurable, calling to be heard aloud." He is the author of nine books of poetry, fiction, essay and translation. His exciting, transgenre work Bright Felon: Autobiography and Cities, part detective story, part memoir, part imagined past, originally published in 2009, is being re-issued.
Tony Barnstone's latest books of poems are Tongue of War: From Pearl Harbor to Nagasaki, winner of the John Ciardi Prize in Poetry, and The Golem of Los Angeles, winner of the Benjamin Saltman Award in Poetry. Translator and scholar as well as a poet, he will present a visual and art slide show in collaboration with the artist Alexandra Eldridge at this event. He has also recently recorded a poetry and music CD, Tokyo's Burning, inspired by Tongue of War, a collaboration with Genuine Brandish: the songwriting team of John Clinebell and Ariana Hall.
Willis Barnstone, poet, translator, editor, and scholar, has three new books of poems, Stickball on 88th Street, the bilingual Café de l'Aube à Paris/Dawn Café in Paris, and The Poems of Jesus Christ. This last collection stems from his recent two-volume translation of The Restored New Testament. He is a Guggenheim Fellow and the distinguished author of some seventy volumes of poetry, prose, and translation.