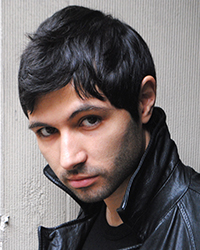 Alex Dimitrov
Alex Dimitrov and Genine Lentine
23 MAY 2013 — thursday
Poetry Flash presents a reading by Alex Dimitrov and Genine Lentine, wheelchair accessible, request ASL interpreters one week in advance from editor @poetryflash.org, Moe's Books, 2476 Telegraph Avenue, Berkeley, 7:30 (510/849-2087, moesbooks.com)

More about the readers
Alex Dimitrov's new book of poems is Begging for It. Mark Doty says, "Dimitrov's passionate, headlong poems seem to want to carve beneath the surface of gestures, beneath the skin, to the warm and dangerous blood beneath…Begging for It is a fierce and memorable debut." A winner of the Stanley Kunitz Prize from The American Poetry Review, Dimitrov is a founder of Wilde Boys, a queer poetry salon, author of the e-chapbook American Boys, and Program Coordinator at the Academy of American Poets.
Genine Lentine's new book is Poses: An Essay Drawn from the Model. Mark Doty says, "Poses dwells in a space between forms, and in fact these pieces feel like spaces, each block of text becoming the rectilinear space of a drawing. The white space between passages of ink creates a rhythm, a sense of time passing, as each piece points toward a different moment of composition." The book features eight figure drawings by Richard Diebenkorn, and it grew out of Lentine's attendance at a particular drawing studio and her creative transition from drawing to writing from the model. Her previous poetry collection is Mr. Worthington's Beautiful Experiments on Splashes, and she is co-author, with Stanley Kunitz and photographer Marnie Crawford Samuelson, of The Wild Braid: A Poet Reflects on a Century in the Garden.