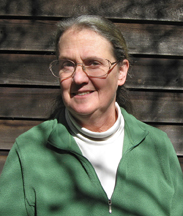 Barbara Swift Brauer
Gerald Fleming and Barbara Swift Brauer
12 SEPTEMBER 2013 — thursday
Poetry Flash presents a Sixteen Rivers Press poetry reading by Gerald Fleming and Barbara Swift Brauer, request ASL interpreters one week in advance from editor@poetryflash.org, Moe's Books, 2476 Telegraph Avenue, Berkeley, 7:30 (510/849-2087, moesbooks.com)

More about the readers
This reading celebrates Sixteen Rivers Press.
Barbara Swift Brauer's new book of poems is At Ease in the Borrowed World. Molly Fisk says, "Haunted by loveliness and by ghosts, Barbara Swift Brauer's collection, At Ease in the Borrowed World, maps out a new geography of belonging. Not to place, exactly, or to family, but to a suspended world where everyone gathers: parents and children, women and men, characters from novels, from history, the dead." A freelance writer and editor, she is co-author with portrait artist Jackie Kirk of the nonfiction book Witness: The Artist's Vision in the Face of AIDS.
Gerald Fleming's new book of poems is The Choreographer. Joan Larkin says, "All through The Choreographer we encounter our own humanness in mirrors both dark and bright, as Gerald Fleming reveals us to ourselves. Each of these pieces feels unexpected yet somehow inevitable. I love their mordant wit, their sparseness and precision, their relentless truthfulness." His previous collections include Night of Pure Breathing and Swimmer Climbing onto Shore. He edited and published the literary journal Barnabe Mountain Review from 1995 to 2000. A longtime teacher in San Francisco's public schools, Fleming has also written three books for teachers.