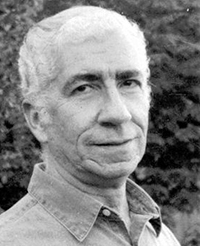 Jack Marshall
Jack Marshall and Anne Winters
19 SEPTEMBER 2013 — thursday
Poetry Flash presents a poetry reading by Jack Marshall, Spiral Trace, and Anne Winters, The Displaced of Capital, request ASL interpreters one week in advance from editor@poetryflash.org, Moe's Books, 2476 Telegraph Avenue, Berkeley, 7:30 (510/849-2087, moesbooks.com)

More about the readers
Jack Marshall's new book of poems is Spiral Trace. Stephen Dunn says, "Jack Marshall is one of our unheralded masters, which Spiral Trace demonstrates on almost every page.…His fine ear is always evident…the sound of words finding and gracing sense, permitting the overtly political, and helping to color his broad sympathies." He is the author of the memoir From Baghdad to Brooklyn and many previous books of poems. His honors include a Guggenheim Fellowship, the PEN Center USA Award, two Northern California Book Awards, and a finalist nomination for the National Book Critics Circle Award.
Anne Winters's new book of poems is The Displaced of Capital. Robert Pinsky says, "Anne Winters's The Displaced of Capital is innovative, even startling, in ways that make its materials not remote but immediate. Vivid and reflective, documentary and visionary, re-imagining the city of New York with the same urgency that ponders the opening words of Genesis, this is a passionate, artful and re-readable book." This is her second collection, following twenty years after her first, The Key to the City, which was a finalist for the National Book Critics Circle Award. Among her honors are a Guggenheim Fellowship, a William Carlos Williams Award, and the Lenore Marshall Poetry Prize.