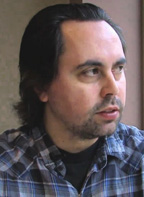 David Lau
David Lau and Ed Pavlic
10 OCTOBER 2013 — thursday
Poetry Flash presents Ed Pavlic, Visiting Hours at the Color Line, and David Lau, Virgil and the Mountain Cat, request ASL interpreters one week in advance from editor@poetryflash.org, Moe's Books, 2476 Telegraph Avenue, Berkeley, 7:30 (510/849-2087, moesbooks.com)

More about the readers
David Lau's full-length book of poetry is Virgil and the Mountain Cat. Calvin Bedient says, "…David Lau's first book of poems evokes the shattering of Western civilization (not its collapse, but the tense, apprehensive moment before the cracked vessel falls apart). It's at once uncompromising and highly inventive." Also the author of the chapbook Bad Opposites, he co-edits, with Cal Bedient, Lana Turner, a Journal of Poetry and Opinion. Lau teaches at the University of California, Santa Cruz and Cabrillo College, and is on the faculty of the UC Berkeley Summer Creative Writing Program.
Ed Pavlic's new book of poems is Visiting Hours at the Color Line, selected as a winner of the 2012 National Poetry Series by Dan Beachy-Quick. Terence Hayes says, "Ed Pavlic shapes the ineffable (some call it Duende, some call it Soul) into a language haunting the borders of the sayable and unsayable, the sung and the unsung." The lines are musically infused, bearing tones of R&B and jazz. Pavlic is the author of five previous collections, the first of which, Paraph of Bone & Other Kinds of Blue, was awarded the APR/Honickman First Book Prize, judged by Adrienne Rich. He teaches English at the University of Georgia.