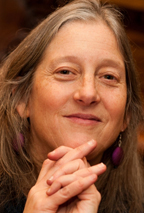 Annie Finch
Annie Finch and Brenda Hillman
22 OCTOBER 2013 — tuesday
Poetry Flash and Moe's Books co-present a poetry reading by Annie Finch, Spells: New and Selected Poems, and Brenda Hillman, Seasonal Works with Letter on Fire, request ASL interpreters one week in advance from editor@poetryflash.org, Moe's Books, 2476 Telegraph Avenue, Berkeley, 7:30 (510/849-2087, moesbooks.com)

More about the readers
Annie Finch's new book is Spells, New and Selected Poems. Joy Harjo says, "Annie Finch's poetry is a pure tone that calls us home to the first impulse of poetry. We link to mystery. We lift off." She's the author of four previous books of poetry and a number of prose books, including The Ghost of Meter: Culture and Prosody in American Free Verse. Regarded as an authority on form in poetry and on women in poetry, she's edited a number of books including A Formal Feeling Comes: Poems in Form by Contemporary Women, and An Exaltation of Forms: Contemporary Poets Celebrate the Diversity of Their Art. She's translated, also, The Complete Poetry of Louise Labé.
Brenda Hillman's new book of poems is Seasonal Works with Letters on Fire, which is the fourth in her grand tetralogy on the elements, the third of which, Practical Water, won the Los Angeles Times Book Award for Poetry. Her exciting new book, Seasonal Works with Letters on Fire, has just been longlisted for the National Book Award. Donald Revell says of Cascadia, an earlier book in the tetralogy, "Earth reaches through Hillman's hand…to show its voice, which is earth in a pencil moving across the earth of the page. Poetry is tectonics. The paper grew and grows in Cascadia." An activist for peace and for social and environmental justice, she also co-edited The Grand Permission: New Writings on Poetics and Motherhood and teaches in the MFA program at Saint Mary's College in Moraga, California.