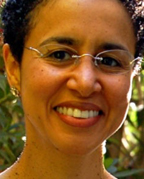 Roxane Beth Johnson
Roxane Beth Johnson and Tess Taylor
14 NOVEMBER 2013 — thursday
Poetry Flash presents Roxane Beth Johnson and Tess Taylor, wheelchair accessible, request ASL interpreters one week in advance from editor @poetryflash.org, Moe's Books, 2476 Telegraph Avenue, Berkeley, 7:30 (510/849-2087, moesbooks.com)

More about the readers
Roxane Beth Johnson's new book of poems is Black Crow Dress. Jennifer Sweeney says, "In Black Crow Dress, Roxane Beth Johnson writes from the ghosted voices of her enslaved ancestors. …I could feel them breathing. I could feel them in my own body. I finished this stunning and important book and then began again." Her first book of poems, Jubilee, won the 2005 Philip Levine Prize, as well as an AWP Prize in Poetry and a Pushcart Prize.
Tess Taylor's first full-length book of poems is The Forage House. Major Jackson says, "In Tess Taylor's collection of poetry, American history is a garment woven from tattered bits of family lore and large swaths of imaginative inlays, so that which shines most is a spun strand of stunningly rich language." Tess Taylor's previous collection, The Misremembered World, was selected by Eavan Boland for the Poetry Society of America's inaugural chapbook fellowship. Tess Taylor's work has appeared in The Atlantic, The Times Literary Supplement, and The New Yorker.