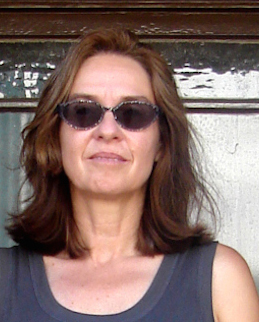 Marsha de la O
Marsha de la O and Lisa Erin Robertson
22 OCTOBER 2015 — thursday
Poetry Flash presents a reading by Marsha de la O and Lisa Erin Robertson, request ASL interpreters one week in advance from editor@poetryflash.org, wheelchair accessible, Moe's Books, 2476 Telegraph Avenue, Berkeley, 7:30 (510/849-2087, www.moesbooks.com)

MORE ABOUT THE READERS
Marsha de la O's new book of poems is Antidote for Night. David Wojahn says, "Her poems are bracing, frightening, and—I would go so far as to say—prophetic. Antidote for Night is, quite simply, a remarkable accomplishment." Her first collection, Black Hope, won the New Issues Press Poetry Prize. She and her husband Phil Taggart live in Ventura, California where they organize events and a reading series and where they edit and publish the literary journal Askew. They also founded the annual Ventura Erotic Poetry reading, a popular southern California literary event.
Lisa Erin Robertson's first book of poems is The Orbit of Known Objects. Edward Falco says, "In the universe of her poems, buried moments cast off their dirt and rise again for the consideration of her readers. Robertson is a poet of exquisite sensibilities, with a generous heart and an eye for the sadness and beauty of our brief, mysterious lives." She has worked in public health for many years.