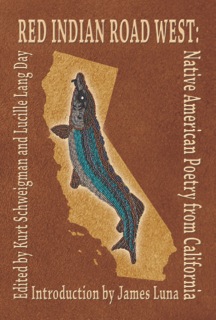 Jewelle Gomez, Linda Noel, Kurt Schweigman, Kim Shuck, more
31 JANUARY 2016 — sunday
Poetry Flash presents a reading by contributing poets Jewelle Gomez, Sharmagne Leland-St. John, Linda Noel,, Kurt Schweigman, and Kim Shuck to celebrate the new Scarlet Tanager Books anthology, Red Indian Road West: Native American Poetry From California, request ASL interpreters one week in advance from editor@poetryflash.org, wheelchair accessible, Diesel, A Bookstore, 5433 College Avenue, Oakland, 3:00 (510/653-9965, dieselbookstore.com)

MORE ABOUT THE READERS
Red Indian Road West: Native American Poetry From California is a new anthology edited by Kurt Schweigman and Lucille Lang Day, with an introduction by James Luna. Its poets represent twenty-nine different tribes and range from university professors to self-taught poets, some much-published, winners of prestigious awards, some newcomers, including at least one who's being published here for the first time. Co-editor and publisher Lucille Lang Day will introduce the anthology contributors at this event. The contributing poets reading at this launch event are:
Jewelle Gomez, who is Ioway/Wampanoag/Cape Verdean. She grew up in Boston during the simmering times of civil rights, anti-war, American Indian, and lesbian-feminist movements. She has published seven books, including the cult classic vampire novel The Gilda Stories, soon to have a twenty-fifth anniversary edition. Her play about James Baldwin premiered in 2011, and her play about singer/composer Alberta Hunter will be produced in 2015.
Sharmagne Leland-St. John, (San Poil), nine-time Pushcart Prize nominee, is a Native American poet, concert performer, lyricist, artist, filmmaker, and store owner. Editor-in-Chief of the poetry e-zine Quill and Parchment, she divides her time between the Hollywood Hills and the Pacific Northwest. She has toured the United States, Canada, and England as a performance poet, has published four books of poetry, Unsung Songs, Silver Tears and Time, Contingencies, and La Kalima, and co-authored a book on film production design. She is co-editor of Cradle Songs: An Anthology of Poems on Motherhood, winner of the International Book Award Honouring Excellence in Mainstream and Independent Publishing.
Linda Noel is of Koyoonk'auwi (Konkow) descent and grew up in Mendocino County. She lives in Ukiah, California, where she is Poet Laureate Emeritus of Ukiah.
Kurt Schweigman, Oglala Lakota, formerly known as Luke Warm Water, was a featured poet at the prestigious Geraldine R. Dodge 12th Biennial Poetry Festival in 2008 and was the first spoken word poet to receive an Archibald Bush Foundation individual artist fellowship in literature. Although no longer competing, he won Poetry Slams from California to Germany. His work was published in Shedding Skins: Four Sioux Poets, 2008, and his latest book, City Tree of Concrete & Hope, won an Artists Embassy International literary/cultural award.
Kim Shuck, Tsalagi/Sauk/Fox, is a poet and bead artist whose work has been shown in Asia, South America, Europe, and across North America. Raised in San Francisco during the hippy, post-hippy, and Red Power movements of the '60s and '70s, she cut her teeth on poetry readings with Carolee Sanchez, Paula Gunn Allen, John Trudell, and various beat poets. She received the 2005 Diane Deborah Award for her book of poems Smuggling Cherokee. Her latest collection is Clouds Running In.

Daily Listings
< previous month | show all FEBRUARY | next month >
4 FEBRUARY 2023 — saturday
5 FEBRUARY 2023 — sunday
6 FEBRUARY 2023 — monday
7 FEBRUARY 2023 — tuesday
8 FEBRUARY 2023 — wednesday
9 FEBRUARY 2023 — thursday
10 FEBRUARY 2023 — friday
11 FEBRUARY 2023 — saturday
12 FEBRUARY 2023 — sunday
13 FEBRUARY 2023 — monday
14 FEBRUARY 2023 — tuesday
15 FEBRUARY 2023 — wednesday
16 FEBRUARY 2023 — thursday
17 FEBRUARY 2023 — friday
18 FEBRUARY 2023 — saturday
19 FEBRUARY 2023 — sunday
20 FEBRUARY 2023 — monday
21 FEBRUARY 2023 — tuesday
22 FEBRUARY 2023 — wednesday
23 FEBRUARY 2023 — thursday
24 FEBRUARY 2023 — friday
25 FEBRUARY 2023 — saturday
26 FEBRUARY 2023 — sunday
27 FEBRUARY 2023 — monday
28 FEBRUARY 2023 — tuesday