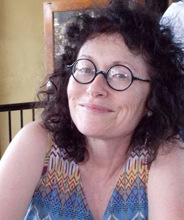 Merle Lyn Bachman
Merle Lyn Bachman and Sharon Coleman
28 FEBRUARY 2016 — sunday
Poetry Flash presents a book launch reading by poets Merle Lyn Bachman, Blood Party, and Sharon Coleman, Paris Blinks, request ASL interpreters one week in advance from editor@poetryflash.org, wheelchair accessible, Diesel, A Bookstore, 5433 College Avenue, Oakland, 3:00 (510/653-9965, dieselbookstore.com)

MORE ABOUT THE READERS
Merle Lyn Bachman's new book of poems is Blood Party. Elizabeth Robinson says, "Bachman's beautifully crafted, acutely sensitive poems adroitly combine history, autobiography, and lyric meditation….This is a poetry that sends messages into the hidden sites of memory and returns with color, form, and commitment." An earlier collection is Diorama with Fleeing Figures. She has also published several chapbooks, including Wrecker's Ball. The granddaughter of Yiddish-speaking immigrants who fled Poland, she is the author of Recovering "Yiddishland": Threshold Moments in American Literature, a combination of memoir, translation, and literary criticism that was also her Ph.D. dissertation in English.
Sharon Coleman's first full-length book of micro-fiction is Paris Blinks. Indigo Moor says, "Similar in concept to Calvino's seminal work, Invisible Cities, the sensual, the alluring, and the distasteful are woven into a collection of fifty, fifty-word jaunts that walk the razored tightrope of harsh realism with an exquisite, magical nuance." She is the author of the poetry chapbook Half Circle, writes for Poetry Flash as a contributing editor, co-curates the poetry reading series Lyrics & Dirges, and co-directs the Berkeley Poetry Festival.