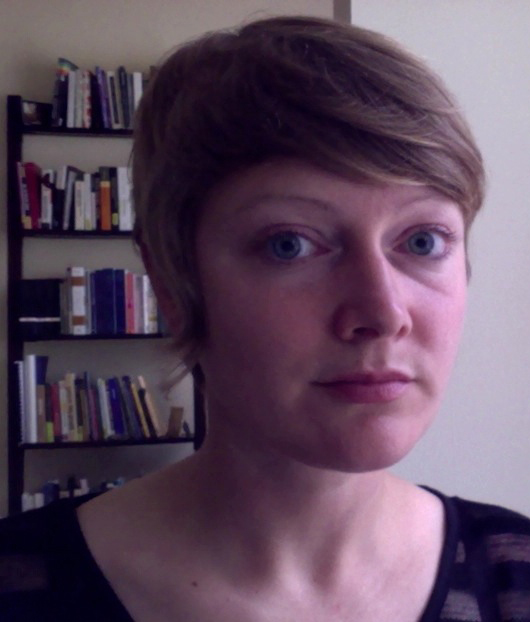 Angela Hume
Drew Dillhunt and Angela Hume
17 APRIL 2016 — sunday
Poetry Flash presents a poetry reading by Drew Dillhunt and Angela Hume, request ASL interpreters one week in advance from editor@poetryflash.org, Pegasus Books Downtown, 2349 Shattuck Avenue, Berkeley, 3:00 (510/649-1320, www.pegasusbookstore.com)

MORE ABOUT THE READERS
Drew Dillhunt's debut book of poems is Leaf is All, which won the 2015 Bear Star Press Dorothy Brunsman Poetry Prize and was a finalist for the National Poetry Series. Craig Santos Perez says, "Through avant-garde, documentary, and eco-poetic modes, Drew Dilhunt weaves the intimate themes of birth, parenthood, and family into the global contexts of plastic production and ecological collapse…Read these poems carefully because they are tenderly inscribed with fragmented origins and precarious futures." Widely published in literary journals, his writing has appeared in VOLT, Mudlark, Tarpaulin Sky, and Jacket2. An earlier version of Leaf is All was a finalist for the National Poetry Series. He's released two albums of songs, one with the band Fighting Shy, and is currently a member of the Seattle-based band Answering Machines. He is Associate Editor of Hummingbird Press.
Angela Hume's debut book of poems is Middle Time. Joan Retallack asks, "What happens when in a time of extreme crisis the action (poiesis) of a discerning mind creates not arguments or proposals, but poetry? …Hume's active generosity of material and imaginative space makes it possible to conjure myriad forms of life thriving in improbably unconsummated ruin." She is the author of three poetry chapbooks; she's also a critic whose essays have appeared or are forthcoming in such journals as Contemporary Literature, ISLE: Interdisciplinary Studies in Literature and Environment, and Jacket2. She co-coordinated the first ever Conference on Ecopoetics in Berkeley in 2013 and co-curates Heart's Desire, the reading series of the Bay Area Public School.