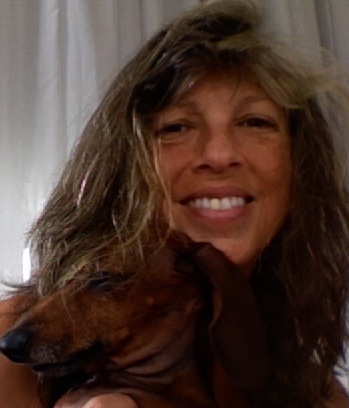 Cynthia Kraman
Cynthia Kraman, Sharon Coleman, Joyce Jenkins
14 JULY 2016 — thursday
Poetry Flash presents a poetry reading by New York poet Cynthia Kraman, with Sharon Coleman and Joyce Jenkins, request ASL interpreters one week in advance at editor@poetryflash.org, wheelchair accessible, Moe's Books, 2476 Telegraph Avenue, Berkeley, 7:30 (510/849-2087, www.moesbooks.com)

MORE ABOUT THE READERS
Cynthia Kraman's latest book of poems is The Touch. Bob Holman says, "The Touch, the long-awaited new book of poetry from medievalist and former punk-rocker Cynthia Kraman, tosses New Formalism on its ear, and its rock lyrics…resuscitate Wordsworth…a superb, extraordinary, shocking, unflinching, charming, hilarious, perfectly gem-cut book." Her first book, Taking on the Local Color, was the Wesleyan New Poets Selection for 1976. Other collections include Club 82 and The Mexican Murals. Published in such journals as The Paris Review and Open City, her poetry has been anthologized in Ordinary Women, New York: Poems, and Bowery Women: Poems. She is professor of English literature at the College of New Rochelle in New York.
Sharon Coleman's first full-length book of micro-fiction is Paris Blinks. Indigo Moor says, "Similar in concept to Calvino's seminal work, Invisible Cities, the sensual, the alluring, and the distasteful are woven into a collection of fifty, fifty-word jaunts that walk the razored tightrope of harsh realism with an exquisite, magical nuance." She is the author of the chapbook Half Circle, writes for Poetry Flash as a contributing editor, co-curates the poetry reading series Lyrics & Dirges, and co-directs the Berkeley Poetry Festival.
Joyce Jenkins is editor of Poetry Flash online review and literary calendar. She has two chapbooks, Portal and Joy Road. Her poetry has appeared in Burning the Midnight Oil, Ambush Review, ZYZZYVA, The Addison Street Anthology: Berkeley's Poetry Walk, and The Place That Inhabits Us: Poems of the San Francisco Bay Watershed. She received the American Book Award in 1994, PEN Oakland Josephine Miles Literary Award for Lifetime Achievement in 2006, and, for Poetry Flash, the Litquake Barbary Coast Award 2012. Co-curator of the Poetry Flash Reading Series, she is sharing a few poems to open the reading in homage to Cynthia and Sharon.