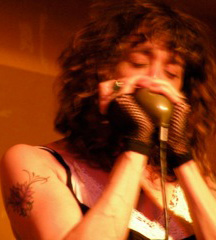 Kim Addonizio
Kim Addonizio and Brendan Constantine
3 NOVEMBER 2016 — thursday
Poetry Flash presents a poetry reading by Kim Addonizio, Mortal Trash, and Brendan Constantine, Dementia, My Darling, request ASL interpreters one week in advance at editor@poetryflash.org, wheelchair accessible, Moe's Books, 2476 Telegraph Avenue, Berkeley, 7:30 (510/849-2087, www.moesbooks.com)

MORE ABOUT THE READERS
Kim Addonizio's new book of poems is Mortal Trash. San Francisco Book Review says, "Kim Addonizio's voice lifts from the page, alive and biting…unleashing wit with a ruthless observation." Poet, fiction writer, and memoirist, she has a teeming resume: author of six previous poetry collections, including Tell Me, which was a National Book Award finalist, two novels, two books of short stories, a memoir, and two books on writing poetry, The Poet's Companion (with Dorianne Laux) and Ordinary Genius: A Guide for the Poet Within. Her honors include two National Endowment for the Arts Fellowships, one from the Guggenheim Foundation, and two Pushcart Prizes.
Brendan Constantine's new book of poems is Dementia, My Darling. Amy Gerstler says it is "a suite of acute, beautiful poems about coming apart, slippage, love, emptying out, transformation, and carrying on. Every absurdly human moment in them is handled with smarts and just the right mix of inventiveness and delicacy.…Tender and humane and unsparing, the poems never surrender to despair." His previous collections are Letters to Guns, Birthday Girl with Possum, and Calamity Joe. He has received grants and commissions from the Getty Museum, the James Irvine Foundation, and the National Endowment for the Arts. He's a terrific performer; he has appeared on National Public Radio, many podcasts, and YouTube, as well as live across the U.S. and Europe.

Daily Listings
< previous month | show all OCTOBER | next month >
16 OCTOBER 2021 — saturday
17 OCTOBER 2021 — sunday
18 OCTOBER 2021 — monday
19 OCTOBER 2021 — tuesday
20 OCTOBER 2021 — wednesday
21 OCTOBER 2021 — thursday
22 OCTOBER 2021 — friday
23 OCTOBER 2021 — saturday
24 OCTOBER 2021 — sunday
25 OCTOBER 2021 — monday
26 OCTOBER 2021 — tuesday
27 OCTOBER 2021 — wednesday
28 OCTOBER 2021 — thursday
29 OCTOBER 2021 — friday
30 OCTOBER 2021 — saturday
31 OCTOBER 2021 — sunday