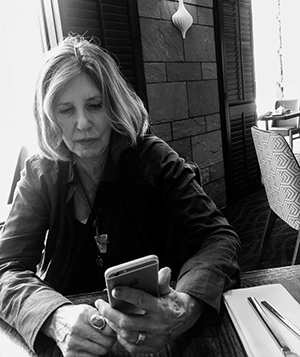 Karen Brennan
Karen Brennan and Elizabeth T. Gray, Jr.
13 NOVEMBER 2016 — sunday
Poetry Flash presents a Four Way Books poetry reading by Karen Brennan and Elizabeth T. Gray, Jr., request ASL interpreters one week in advance from editor@poetryflash.org, wheelchair accessible, Diesel, A Bookstore, 5433 College Avenue, Oakland, 3:00 (510/653-9965, dieselbookstore.com)

MORE ABOUT THE READERS
A Celebration and Reading for Four Way Books!
Karen Brennan's new book is Monsters, stories, a collection of thirty-eight innovative fictions. Lance Olsen says, "Monsters takes the form of an extraordinary wunderkammer filled with narraticules…about what can't stay, what was probably never there to begin with, and the beauty of that, and the biting loss." Her previous book, little dark, is a hybrid of poems and prose threaded together as memoir. Her other previous books include two books of poems, Here on Earth and The Real Enough World, two books of short fiction, and a memoir. Her fiction and poetry are widely anthologized, and she's the recipient of a grant from the National Endowment for the Arts. She is Professor Emerita at the University of Utah and teaches at the Warren Wilson MFA Program for Writers.
Elizabeth T. Gray, Jr.'s new book of poems is Series | India. Jennifer Grotz calls it "a gorgeously-woven book-length sequence of poems that moves from New York to India, from a dying mother to a motley group of spiritual seekers." Elizabeth T. Gray is a poet, translator, and corporate consultant. She has published translations from classical and contemporary Persian, and is currently collaborating on the translation of a Tibeto-Mongolian folk epic.
Daily Listings
< previous month | show all OCTOBER | next month >
16 OCTOBER 2021 — saturday
17 OCTOBER 2021 — sunday
18 OCTOBER 2021 — monday
19 OCTOBER 2021 — tuesday
20 OCTOBER 2021 — wednesday
21 OCTOBER 2021 — thursday
22 OCTOBER 2021 — friday
23 OCTOBER 2021 — saturday
24 OCTOBER 2021 — sunday
25 OCTOBER 2021 — monday
26 OCTOBER 2021 — tuesday
27 OCTOBER 2021 — wednesday
28 OCTOBER 2021 — thursday
29 OCTOBER 2021 — friday
30 OCTOBER 2021 — saturday
31 OCTOBER 2021 — sunday