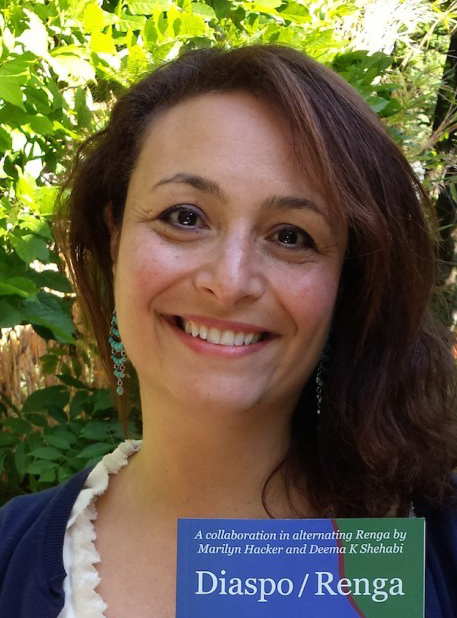 Deema K. Shehabi
Deema K. Shehabi and Lena Khalaf Tuffaha
27 APRIL 2017 — thursday
Poetry Flash presents a poetry reading by Deema K. Shehabi, author of an email collaboration, DIASPOR/RENGA, with the poet Marilyn Hacker, and Lena Khalaf Tuffaha, Walter & Salt, request ASL interpreters one week in advance at editor@poetryflash.org, wheelchair accessible, Moe's Books, 2476 Telegraph Avenue, Berkeley, 7:30 (510/849-2087, www.moesbooks.com)


MORE ABOUT THE READERS
Deema K. Shehabi is a Palestinian-American poet, writer, and editor. Author of the poetry collection Thirteen Departures from the Moon, she also collaborated with Marilyn Hacker on DIASPOR/RENGA, an email exchange between the two poets, of Palestinian and Jewish heritage respectively, sparked by the 2009 Israeli siege of Gaza, published as a single long poetic dialogue. Another of her collaborative publications is Al-Mutanabbi Street Starts Here, co-edited with Beau Beausoleil for which she won the Northern California Book Reviewers Special Recognition Award.
An American poet of Palestinian, Jordanian and Syrian heritage, Lena Khalaf Tuffaha's debut book of poems is Water & Salt. Oliver de La Paz says, "The poems in Water & Salt are fearless and frank. They speak of a place where a phone call announces doom and where 'portraits find their frames.' But always, despite the violence and war, in the music of Tuffaha's poetry there is a clear summons, beckoning us to join her in the feast of her language." Widely published in literary journals, she is also the winner of the 2016 Two Sylvias Chapbook Prize for Arab in Newsland.

Daily Listings
< previous month | show all AUGUST | next month >
4 AUGUST 2021 — wednesday
5 AUGUST 2021 — thursday
6 AUGUST 2021 — friday
7 AUGUST 2021 — saturday
8 AUGUST 2021 — sunday
9 AUGUST 2021 — monday
10 AUGUST 2021 — tuesday
11 AUGUST 2021 — wednesday
12 AUGUST 2021 — thursday
13 AUGUST 2021 — friday
14 AUGUST 2021 — saturday
15 AUGUST 2021 — sunday
16 AUGUST 2021 — monday
17 AUGUST 2021 — tuesday
18 AUGUST 2021 — wednesday
19 AUGUST 2021 — thursday
20 AUGUST 2021 — friday
21 AUGUST 2021 — saturday
22 AUGUST 2021 — sunday
23 AUGUST 2021 — monday
24 AUGUST 2021 — tuesday
25 AUGUST 2021 — wednesday
26 AUGUST 2021 — thursday
27 AUGUST 2021 — friday
28 AUGUST 2021 — saturday
29 AUGUST 2021 — sunday
30 AUGUST 2021 — monday
31 AUGUST 2021 — tuesday