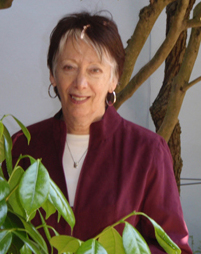 Susan Kolodny
Susan Kolodny and Carolyne Wright
9 NOVEMBER 2017 — thursday
Poetry Flash presents a poetry reading by Susan Kolodny, Preserve, and Seattle poet Carolyne Wright, This Dream the World: New & Selected Poems, wheelchair accessible, Moe's Books, 2476 Telegraph Avenue, Berkeley, 7:30 (510/849-2087, www.moesbooks.com)


MORE ABOUT THE READERS
Susan Kolodny's new book of poems is Preserve. Robert Thomas says, "Susan Kolodny's moving new collection begins with her arrival in Botswana and tells the story of a journey that transforms her understanding of herself and her own culture…Kolodny is unsentimental about the challenges that game preserves face…and the book itself becomes a Preserve she creates to save a world whose survival is at risk." Her first collection is After the Firestorm. She's also a psychoanalyst and author of The Captive Muse: On Creativity and its Inhibition.
Carolyne Wright's new book of poems is This Dream the World: New & Selected Poems. David Axelrod says, "The language of Carolyne Wright's poems is as rich, diverse, and bursting with life as the natural world of the coastal Northwest she calls home; but her home is the world, much of which she has traveled. Her poems engage that larger world and the lives of its citizens, their history, turmoil, and jeopardy. Hers is a poetry both of celebration and of sober courage." Author of numerous previous collections, including A Change of Maps, she is co-editor of Raising Lily Ledbetter: Women Poets Occupy the Workspace, a groundbreaking anthology. She is also a translator who has published five books of translation from both Spanish and Bengali. In addition, she has published a book of essays, and has received a Fulbright and a National Endowment for the Arts fellowship. She lives in Seattle.