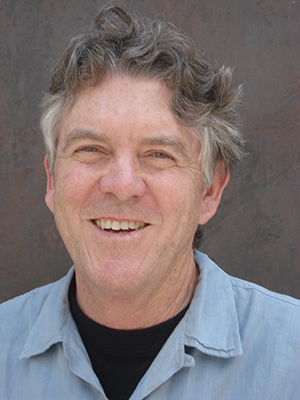 Gerald Fleming
Gerald Fleming and Jack Marshall
12 NOVEMBER 2017 — sunday
Poetry Flash presents a reading by Jack Marshall, Fugitive in Full View, and Gerald Fleming, One, wheelchair accessible, East Bay Booksellers (formerly Diesel), 5433 College Avenue, Oakland, 3:00 (510/653-9965, ebbooksellers.com)

MORE ABOUT THE READERS
Gerald Fleming's recent book of poems is One. Frederick Barthelme says, "His new volume, One, takes on the monosyllable and wrestles it into dizzying and wonderful pretzel-esque works which may appear, at first glance, non-pretzel-esque. You'll probably love this book as much as I do." He's published three previous collections, Swimming Climbing onto Shore, Night of Pure Breathing, and The Choreographer. A teacher in San Francisco's public schools for thirty-seven years, he's written three books for teachers. He edited and published the literary journal Barnabe Mountain Review from 1995 to 2000, and is currently editing both the limited-edition vitreous magazine One (More) Glass and The Collected Prose and Poetry of Lawrence Fixel.

Jack Marshall's new book of poems is Fugitive in Full View. Stephen Dunn says, "Jack Marshall is one of our unheralded masters. Very few poets can combine statement and lyricism as well as he can. His fine ear is always evident in his packed three-line stanzas—the sound of words finding and gracing sense, permitting the overtly political, and helping to color his broad sympathies. This is a terrific book, and Marshall is an American treasure." He has published numerous previous collections and the memoir From Baghdad to Brooklyn. Among his honors are a PEN Center USA Award, two Northern California Book Awards and a Guggenheim Fellowship. He has been a finalist for the National Book Critics Circle Award.
Daily Listings
< previous month | show all OCTOBER | next month >
16 OCTOBER 2021 — saturday
17 OCTOBER 2021 — sunday
18 OCTOBER 2021 — monday
19 OCTOBER 2021 — tuesday
20 OCTOBER 2021 — wednesday
21 OCTOBER 2021 — thursday
22 OCTOBER 2021 — friday
23 OCTOBER 2021 — saturday
24 OCTOBER 2021 — sunday
25 OCTOBER 2021 — monday
26 OCTOBER 2021 — tuesday
27 OCTOBER 2021 — wednesday
28 OCTOBER 2021 — thursday
29 OCTOBER 2021 — friday
30 OCTOBER 2021 — saturday
31 OCTOBER 2021 — sunday