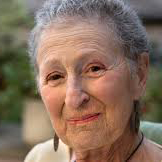 Chana Bloch
Chana Bloch Tribute: Jeanne Foster, Sandra Gilbert, Peter Dale Scott, more
28 JANUARY 2018 — sunday
Poetry Flash presents a Tribute Reading for Chana Bloch, Invocation to Daughters, by her Writing Group: Dan Bellm, Jeanne Foster, Sandra Gilbert, Peter Dale Scott, Phyllis Stowell, and Alan Williamson, wheelchair accessible, East Bay Booksellers (formerly Diesel), 5433 College Avenue, Oakland, 3:00 (510/653-9965, ebbooksellers.com)

MORE ABOUT THE READERS
This tribute to the late poet Chana Bloch is a reading by six members of her close knit Writing Group. It is also a celebration of her posthumous book of poems, The Moon Is Almost Full; copies will be available at the event. Chana Bloch was a poet, translator, and teacher for many years at Mills College; she was much beloved in the Bay Area and beyond. Jane Hirshfield says of her new collection, "Each page verifies the beauty and scope and surge of a life both extraordinary and daily, embraced not in spite of our mortality, but because of it." The book will be available that this event. The readers from her Writing Group will be:
Poet and translator Dan Bellm, whose most recent book of poems is Deep Well.
Poet and translator Jeanne Foster's most recent book of poems is Goodbye, Silver Sister. She is professor of English and Creative Writing at Saint Mary's College in Moraga.
Poet, memoirist, critic, and teacher Sandra Gilbert, among whose recent books of poems is Belongings.
Former Canadian diplomat, poet, political thinker, and memoirist Peter Dale Scott, among whose books of poems is Coming to Jakarta: A Poem about Terror.
Poet, teacher, editor, and founding member of Saint Mary's College of California MFA program Phyllis Stowell, among whose books of poems is Sundered.
Poet, critic, and teacher Alan Williamson's most recent poetry collection is A Pattern More Complicated: New and Selected Poems.