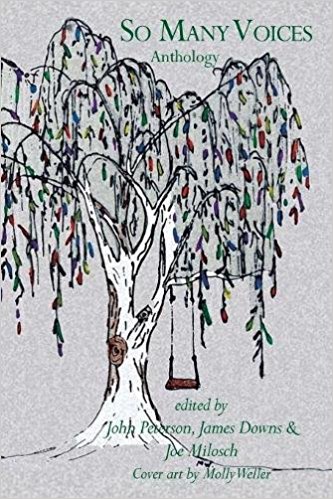 So Many Voices: Kim Shuck, Gail Entrekin, Joseph Zaccardi, more
18 MARCH 2018 — sunday
Poetry Flash presents a reading and celebration for So Many Voices, a Poetic Matrix Press twentieth anniversary anthology edited by John Peterson, James Downs, and Joe Milosch, of writings published by Poetic Matrix Press authors from 1997-2017, contributors reading: Kim Shuck, Gail Entrekin, Charles Entrekin, James Downs, Joseph Milosch, Leroy F. Moore, Jr., Patricia Nelson, Chris Olander, and Joseph Zaccardi, wheelchair accessible, East Bay Booksellers (formerly Diesel), 5433 College Avenue, Oakland, 3:00 (510/653-9965, ebbooksellers.com)

MORE ABOUT THE READERS
So Many Voices is a new anthology celebrating Poetic Matrix Press's twentieth anniversary, selecting from the work of their authors 1997 to 2017. Edited by John Peterson, James Downs, and Joe Milosch, with a foreword from James Downs and John Peterson, the writings in So Many Voices were gleaned from sixty Poetic Matrix Press books by forty-five ethnically and aesthetically diverse authors, including selections of women's studies and literary nonfiction. Contributing authors reading at the event:
James Downs is author of the poetry collection Merge with the River.
Gail Entrekin and Charles Entrekin; her most recent book of poems is Rearrangement of the Invisible; she is co-author with Charles of the poetry collection The Art of Healing; his most recent book of poems is Portrait of a Romance; he was the founder of the Berkeley Poets Cooperative and the Berkeley Poets Workshop and Press.
Joseph Milosch is author of The Lost Pilgrimage Poems.
Leroy F. Moore, Jr. is a Black disabled activist, poet and writer, hip-hop lover, and feminist, author of author of Black Kripple Delivers Poetry & Lyrics.
Patricia Nelson is an attorney and environmentalist, author of the book of poems Spokes of Dream or Bird.
Chris Olander is a performance poet, teacher, and naturalist whose first full-length book of poems is River Light.
Kim Shuck is the current Poet Laureate of San Francisco; her books include the poetry collections Smuggling Cherokee and Sidewalk NDN and the book of poetic fiction Rabbit Stories; her heritage is Tsulagi, Sauk, Fox, and Polish. She is the first Native American poet laureate of a major American city.
Joseph Zaccardi is a former Marin County Poet Laureate; his fourth book of poems is A Wolf Stands Alone in Water.