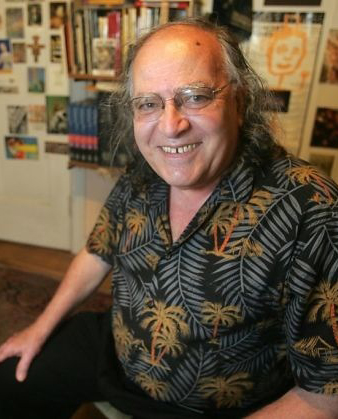 Jack Foley
Ivan Argüelles, Jack Foley, Jacob Smullyan
29 MARCH 2018 — thursday
Poetry Flash presents a poetry reading by surrealist poet Ivan Argüelles, poet and KPFA "Cover to Cover" radio host Jack Foley, and poet, writer, and publisher Jacob Smullyan, wheelchair accessible, Moe's Books, 2476 Telegraph Avenue, Berkeley, 7:30 (510/849-2087, www.moesbooks.com)


MORE ABOUT THE READERS
Ivan Argüelles is an acclaimed surrealist poet, whose collection Looking for Mary Lou: Illegal Syntax won the William Carlos Williams Award in 1989. Recent books of poems include Fragments from a Gone World, Duo Poemata: Ilion—a Transcription & Altertumwissenschaft, and Fiat Lux. He is the founder and co-editor of Pantograph Press.
Jack Foley has published fifteen books of poems, five books of criticism, and Visions and Affiliations, a 'chronoencyclopedia' of California poetry from 1940 to 2005. Recent collections include Riverrun, about which Stephen Cole says, "Sad, exhilarating and imaginatively original true adventure in Poetry!" Grief Songs, which will be the focus of this reading, is a collection of elegies for Adelle, his wife of almost fifty-five years, a poet herself and his partner for years in performing his unique 'multi-voiced' poetry. Grief Songs and The Tiger and Other Tales, his collection of short stories, were both published by Sagging Meniscus Press. Foley is host of "Cover to Cover," his poetry radio show on Wednesday afternoons on KPFA-FM.
Jacob Smullyan's new book of prose poems is Errata. Charles Holdefer of Dactyl Review says, "To describe a book as unclassifiable is, of course, to classify it, but that fact is entirely in keeping with the spirit of Jacob Smullyan's Errata…" He is also author of the poem cycle Dribble. A musician as well as a writer, he is the founder of Sagging Meniscus Press and Exacting Clam magazine.