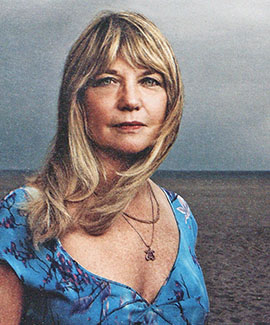 Carol Muske-Dukes
Carol Muske-Dukes and Jane Mead
24 MAY 2018 — thursday
Poetry Flash presents a poetry reading by Carol Muske-Dukes, Blue Rose, and Jane Mead, World of Made and Unmade, wheelchair accessible, Moe's Books, 2476 Telegraph Avenue, Berkeley, 7:30 (510/849-2087, www.moesbooks.com)

MORE ABOUT THE READERS
Jane Mead's new book of poems is World of Made and Unmade. The late poet C.D. Wright said, "As the laundry room floods and the grape harvest gets done; as Michoacán waits for another time, her beautiful, practical mother is dying. Ashes are scattered in the pecan groves of her own Rincon, her own corner of the world, and the poet, in elementary script, draws a sustaining record of the only feeling worth the struggle…" She's authored four previous collections, most recently Money, Money, Money | Water, Water, Water, and her honors include a Guggenheim Foundation Fellowship, a Whiting Writers Award, and a Lannan Foundation Completion Grant.
Carol Muske-Dukes's new book of poems is Blue Rose. Linda Gregerson says, "Scathing intelligence and an open heart: the most difficult combination in the world, and bountifully manifest on every page. In the birth room, at the death bed, beneath the falling ash of a California wildfire, before the whole, hurt spectacle of an imperiled and beloved world, these poems remind us what it's truly like to see and feel." Author of eight poetry collections, including Sparrow, a finalist for the National Book Award, she's also published four novels, two collections of essays, and co-edited Crossing State Lines: An American Renga with Bob Holman. She was California Poet Laureate from 2008 to 2011.