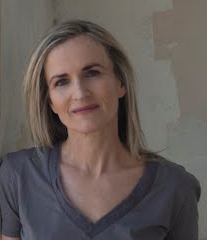 Rebecca Foust
Lisa Dordal and Rebecca Foust
11 NOVEMBER 2018 — sunday
Poetry Flash presents a poetry reading by Lisa Dordal, for Mosaic of the Dark, and Rebecca Foust, Paradise Drive, wheelchair accessible, East Bay Booksellers (formerly Diesel), 5433 College Avenue, Oakland, 3:00 (510/653-9965, ebbooksellers.com)


MORE ABOUT THE READERS
Lisa Dordal's new book is Mosaic of the Dark. "A debut poetry collection [that] explores faith and sexuality. Humming with inspired metaphors and everyday relevance, these poems are gems."—Kirkus Review. She has been nominated for a Pushcart Prize, and is the recipient of an Academy of American Poets University Prize and the Robert Watson. Her poetry has appeared in Best New Poets, Ninth Letter, CALYX, Nasty Women Poets: An Unapologetic Anthology of Subversive Verse, The Greensboro Review, and elsewhere. She teaches at Vanderbilt University in Nashville, Tennessee.
Rebecca Foust most recent book of poems is Paradise Drive, winner of the Press 53 Award for Poetry. Thomas Lux says, "There is great music in these poems, and sonnet after sonnet is masterful. Not since Berryman's Henry have I been so engaged by a persona: Pilgrim, who 'like most of we" is good and bad, hapless sometimes, other times approaching wisdom, always sending deeper and deeper her primary roots." Her previous books include God, Seed: Poetry and Art About the Natural World and All That Gorgeous Pitiless Song. Among her honors are a Foreword Book of the Year Award, an MMM Press Poetry Book Prize, and two Robert Phillips Poetry Chapbook prizes. She is the current Poet Laureate of Marin County.