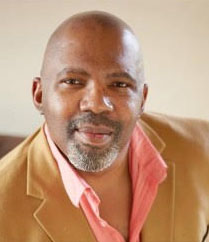 Indigo Moor
Indigo Moor and Amber Flora Thomas
15 NOVEMBER 2018 — thursday
Poetry Flash presents a poetry reading by Indigo Moor, In the Room of Thirsts & Hungers, and Amber Flora Thomas, Red Channel in the Rupture, wheelchair accessible, Moe's Books, 2476 Telegraph Avenue, Berkeley, 7:30 (510/849-2087, www.moesbooks.com)


MORE ABOUT THE READERS
Indigo Moor's new book of poems is In the Room of Thirsts & Hungers. Camille T. Dungy says, "The interlacing narratives of In the Room of Thirsts & Hungers suggests that our world is nothing so much as a mirror, revealing who we are and have always been. These carefully-wrought and brightly-imagined poems are both timely and timeless." Also a scriptwriter and author, Moor is Poet Laureate of Sacramento. His previous collections are Tap-root and Through the Stonecutter's Window, which won Northwestern University Press's Cave Canem prize. His full-length play Live! at the Excelsior was a finalist for the Images Theatre Playwright Award and has been optioned for a film.
Amber Flora Thomas's new book of poems is Red Channel in the Rupture. Susan Terris says, "Amber Flora Thomas writes about a world where no snake, bat, bug or any animal escapes her focus or her respectful awe. With the same intensity, she examines parents, friends, lovers, and self. Her poems, though often fierce, are gorgeous and lyrical in nature; and there's a mystery to them." Eye of Water, her first book of poems, was selected by Harryette Mullen for the 2004 Cave Canem Poetry Prize. The Rabbits Could Sing, her second, was selected by Peggy Shumaker for the Alaska Literary Series. A recipient of the Dylan Thomas American Poet Prize, the Richard Peterson Prize, and the Ann Stanford Prize, she is a Cave Canem Fellow and faculty member. She was born and raised in northern California.