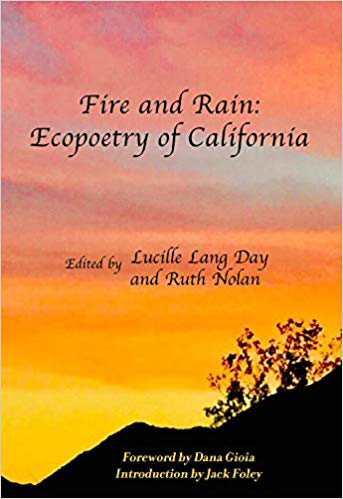 Fire and Rain: Tiffany Higgins, Jeanne Wagner, more
24 JANUARY 2019 — thursday
Poetry Flash presents a reading from the new anthology, Fire and Rain: Ecopoetry of California, with co-editor Lucille Lang Day and contributors Marcia Falk, Ben Gucciardi, Tiffany Higgins, and Jeanne Wagner, wheelchair accessible, Moe's Books, 2476 Telegraph Avenue, Berkeley, 7:30 (510/849-2087, www.moesbooks.com)


MORE ABOUT THE READERS
Fire and Rain: Ecopoetry of California, co-edited by Lucille Lang Day and Ruth Nolan, is a powerful new anthology featuring more than 250 poems by 149 contributors, including Ellen Bass, Christopher Buckley, Alison Hawthorne Deming, Camille T. Dungy, Ann Fisher-Wirth, Rebecca Foust, Dana Gioia, Rafael Jesús González, Emily Grosholz, Robert Hass, Brenda Hillman, Jane Hirshfield, Ursula K. Le Guin, Gary Snyder, and David St. John, with a foreword by Dana Gioia and introduction by Jack Foley. Pattiann Rogers, recipient of the John Burroughs Medal for Lifetime Achievement in Nature Poetry, says, "Fire and Rain: Ecopoetry of California"…is not only a beautiful and thorough anthology but an homage to California, its varieties of landscapes, and the amazing poetry it has evoked. Like no other collection in its focus, it presents for the reader experiences of life and personal perspectives on the region while also providing an invaluable resource for teachers of creative writing and literature and the ecology, habitats, and species of the state." Reading at this event are contributors:
Marcia Falk is a poet, painter, translator, and Judaic scholar. Her brand new book is Inner East: Illuminated Poems and Blessings. Her previous books include The Book of Blessings: New Jewish Prayers for Daily Life, the Sabbath, and the New Moon Festival; The Days Between: Blessings, Poems, and Directions of the Heart for the Jewish High Holiday Season; and The Song of Songs: Love Lyrics from the Bible.
Ben Gucciardi's poems have appeared in Indiana Review, Orion, Terrain.org, upstreet, Forklift, Ohio, and other journals. He is a winner of the Milton Kessler Memorial Prize from Harpur Palate, a Dorothy Rosenberg Prize, and contests from The Maine Review and The Santa Ana River Review.
Tiffany Higgins is the author of The Apparition at Fort Bragg, selected by Camille T. Dungy; And Aeneas Stares into Her Helmet, selected by Evie Shockley; and Tail of the Whale, translations from Portuguese of poems by Alice Sant'Anna. Her article, "Brazil's Munduruku Mark Out Their Territory When the Government Won't," appeared in Granta.
Jeanne Wagner is the winner of several national awards, most recently an Arts & Letters Award, a Sow's Ear Chapbook Prize, and a Sow's Ear Prize for an individual poem. Her first book, The Zen Piano Mover, won the Stevens Poetry Manuscript Prize. In the Body of Our Lives, her most recent book, was published by Sixteen Rivers Press.
Daily Listings
< previous month | show all FEBRUARY | next month >
9 FEBRUARY 2023 — thursday
10 FEBRUARY 2023 — friday
11 FEBRUARY 2023 — saturday
12 FEBRUARY 2023 — sunday
13 FEBRUARY 2023 — monday
14 FEBRUARY 2023 — tuesday
15 FEBRUARY 2023 — wednesday
16 FEBRUARY 2023 — thursday
17 FEBRUARY 2023 — friday
18 FEBRUARY 2023 — saturday
19 FEBRUARY 2023 — sunday
20 FEBRUARY 2023 — monday
21 FEBRUARY 2023 — tuesday
22 FEBRUARY 2023 — wednesday
23 FEBRUARY 2023 — thursday
24 FEBRUARY 2023 — friday
25 FEBRUARY 2023 — saturday
26 FEBRUARY 2023 — sunday
27 FEBRUARY 2023 — monday
28 FEBRUARY 2023 — tuesday