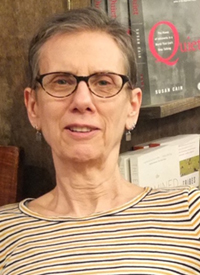 Barbara Henning
Barbara Henning and Maureen Owen
28 FEBRUARY 2019 — thursday
Poetry Flash presents a poetry reading by Barbara Henning, A Day Like Today, and Maureen Owen, Edges of Water, Moe's Books, 2476 Telegraph Avenue, Berkeley, wheelchair accessible, 7:30 (510/849-2087, www.moesbooks.com)


MORE ABOUT THE READERS
Barbara Henning's new book of poems is A Day Like Today. Cole Swenson says, "Henning adds a global attention to the grand New York tradition of the frank reportage of daily life, making those mundane details refract in myriad sparkling colors." She has published seven poetry collections and four novels. She has edited a book of interviews, Looking Up Harryette Mullen, and The Selected Prose of Bobbie Louise Hawkins; she was also editor of the poetry/art journal Long News: In the Short Century, from 1990-1995.

Maureen Owen has published eleven books of poems, most recently Edges of Water. A special selection of poems from her book Erosion's Pull is now available in collaboration with work of the New York artist Yvonne Jacquette. Bernadette Mayer says, "In Erosion's Pull, Maureen Owen epitomizes quantum poetics or being in 67 places at one time or The Atomizer." A former editor and chief of Telephone Magazine and Telephone Books and a former program coordinator for The St. Mark's Poetry Project, her work has been widely anthologized, including in Moving Borders: Three Decades of Innovative Writing by Women. Among other honors, she has received a grant from the Fund for Poetry and a fellowship from the National Endowment for the Arts.