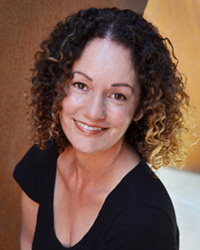 Lisa Rosenberg
Keith Emmons and Lisa Rosenberg
3 MARCH 2019 — sunday
Poetry Flash presents a reading by Keith Emmons, Moondrifter Reverie, and Lisa Rosenberg, A Different Physics, East Bay Booksellers, 5433 College Avenue, Oakland, wheelchair accessible, 3:00 (510/653-9965, ebbooksellers.com)


MORE ABOUT THE READERS
Keith Emmons's debut book of poems is Moondrifter Reverie. David Landau says, "Moondrifter Reverie invests the anxious 1970s with nobility and even, dare I say, with dignity. [It] recreates the sheer loveliness under the hustle bustle and delivers it fresh, via the poet's handsome language." A cum laude graduate of Harvard College, he lived for ten years in a waterfront houseboat community during the 1970s, where he wrote and also designed and built a floating home that won a first place award from the National Endowment for the Arts. Widely published in journals in the Bay Area, he now lives off the grid in the Santa Cruz Mountains.
Lisa Rosenberg's debut book, A Different Physics, won the 2017 Red Mountain Poetry Prize (both of these books are from Red Mountain Press). Kenneth Fields says, "Trained as a scientist and poet, Lisa Rosenberg brings both disciplines together in ways that are quietly terrifying…In landscape, as beautifully rendered as in any modern writer, she sees the potential for destruction familiar to us in the daily news.…" She holds degrees both in Physics and Creative Writing and served as Poet Laureate for San Mateo County 2017-2018. A former Wallace Stegner Fellow at Stanford, she's widely published in literary journals. She also worked as an engineer in the space program, founded a consulting practice, and flew as a private pilot. She has a craft essay forthcoming in The WAVES Anthology about her years in the military-industrial complex.