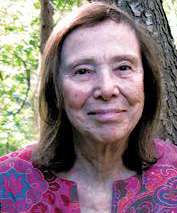 Grace Schulman
Photo: Joanne Pilgrim
Grace Schulman and Rosa Lane
28 APRIL 2019 — sunday
Poetry Flash presents a reading by acclaimed poet and memorist Grace Schulman, Without a Claim, and Rosa Lane, Chouteau's Chalk, winner of the Georgia Poetry Prize, East Bay Booksellers, 5433 College Avenue, Oakland, wheelchair accessible, 3:00 (510/653-9965, ebbooksellers.com)


MORE ABOUT THE READERS
Rosa Lane's new book of poems, Chouteau's Chalk, is the winner of the Georgia Poetry Prize. Dawn McGuire says, "In Chouteau's Chalk, Rosa Lane becomes a lionhearted singer of the erotic: as life force, as madness, as mentor, as inventor…Lane's technical mastery serves the fierce music of the body, which, like desire itself, did bring me to my knees." Her previous collections are Tiller North and Roots and Reckonings. She an architect as well as a poet, and she splits her time between coastal Maine and the San Francisco Bay Area.
Grace Schulman's new book of poems is Without a Claim. Philip Schultz says, "Without a Claim is a modern book of Psalms. Indeed, the glory in these radiant sacred songs meld an art of high music with a nuanced love of the world unlike any we've heard before." She'll also be reading from her newly published memoir Strange Paradise: Portrait of a Marriage, which tells the moving story of her love for her scientist husband, her care for him during a long, terminal illness, and her subsequent harrowing grief. Author of seven books of poems, including this new one and Days of Wonder: New and Selected Poems, which was a Library Journal Best Book of the Year, she is a Distinguished Professor of English at Baruch College, a former director of the Poetry Center at the 92nd Street Y, and a former poetry editor at The Nation. Her honors include a Frost Medal for Distinguished Lifetime Achievement in American Poetry, the highest award of the Poetry Society of America, a Guggenheim Fellowship, and four Pushcart Prizes.