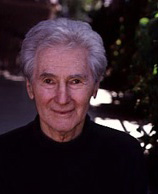 Willis Barnstone
Willis Barnstone and Tony Barnstone
19 MAY 2019 — sunday
Poetry Flash presents a reading by acclaimed poet and translator Willis Barnstone, Poets of the Bible, with his son and noted poet and translator Tony Barnstone, Pulp Fiction, East Bay Booksellers, 5433 College Avenue, Oakland, wheelchair accessible, 3:00 (510/653-9965, ebbooksellers.com)


MORE ABOUT THE READERS
Willis Barnstone is a poet, teacher, memoirist, editor, and translator; he's published more than eighty books. He'll be reading from his Poets of the Bible and his new, not yet published translations of Guillaume Apollinaire. His books include The Restored New Testament, The Poetics of Translation, and the poetry collections Stickball on 88th Street, and Mexico in My Heart, New and Selected Poems. A Guggenheim fellow, he has been nominated for the Pulitzer Prize in Poetry four times, and has had four Book of the Month Club selections. His poetry has appeared in The Paris Review, The New Yorker, Poetry Magazine, The New York Review of Books, and The Times Literary Supplement. His books have been translated into diverse languages including French, Italian, Romanian, Arabic, Korean, and Chinese. He was awarded the Northern California Book Awards' Fred Cody Lifetime Achievement Award in 2015.
Tony Barnstone, Willis's son, is also an acclaimed poet, editor, translator, and fiction writer as well. He is the author of seventeen books, including Pulp Sonnets, Beast in the Apartment, The Golem Of Los Angeles, Tongue of War: from Pearl Harbor to Nagasaki, selected for the John Ciardi Prize by B.H. Fairchild, and a poetry and music CD by the same name. B.H. Fairchild said, "…The diction and syntax are often blunt with the exhaustion and terror of human voices—American and Japanese, soldiers and civilians—struggling to articulate the unspeakable, to make visible that to which we have learned to blind ourselves.…I cannot help but think that having read it, an American President who has himself been privileged to avoid the horrors of the battlefield might be less inclined to send young men and women off to face them." His honors include fellowships from the National Endowment for the Arts and National Endowment for the Humanities, the Poet's Prize, and the Benjamin Saltman Prize from Red Hen Press.