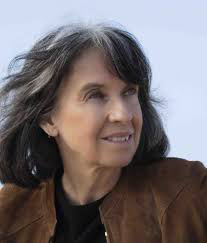 Marsha de la O
Marsha de la O and Noah Blaustein
4 AUGUST 2019 — sunday
Poetry Flash presents a poetry reading by Marsha de la O, Every Ravening Thing, and Noah Blaustein, After Party, East Bay Booksellers, 5433 College Avenue, Oakland, wheelchair accessible, 3:00 (510/653-9965, ebbooksellers.com)


MORE ABOUT THE READERS
Marsha de la O's new book of poems is Every Ravening Thing. Christopher Buckley says, "Every Ravening Thing presents a matchless intensity and intellectual gift, a fearless investigation into the world amplified by a vision that is both cosmic and detailed in our common suffering." Her previous collections include Antidote for Night, winner of the 2015 Isabella Gardner Award, and Black Hope, winner of the New Issues Press Poetry prize and an Editor's Choice, Small Press Book Award. Other honors are the Morton Marcus Poetry Award and the da Poetry Award. She has published extensively, including recent poems in The New Yorker, the Kenyon Review, and Prairie Schooner. She lives in Ventura, California, with her husband, poet and editor Phil Taggart. Together, they produce poetry readings and events in Ventura County and edit the literary journal Spillway.
Noah Blaustein's new book of poems is After Party. Garrett Hongo says, "Blaustein is as canny as Odysseus returned home and stringing his bow. Vagabond and shining like the sea, his poems drag you to deep undercurrents as you are caught singing in their chains." And Campbell McGrath says, "These are poems full of vivid particularities, poems that know 'it's easier to love/ this world than it is to disappear.' Noah Blaustein is a believer in hard-earned wisdom—'suffering is measured/ by the strength of one's fears'—and a poet of ferocious nostalgia." His previous collection is Flirt, and he is editor of the anthology Motion: American Sports Poems. He lives in Santa Monica, California.
Daily Listings
< previous month | show all SEPTEMBER | next month >
22 SEPTEMBER 2021 — wednesday
23 SEPTEMBER 2021 — thursday
24 SEPTEMBER 2021 — friday
25 SEPTEMBER 2021 — saturday
26 SEPTEMBER 2021 — sunday
27 SEPTEMBER 2021 — monday
28 SEPTEMBER 2021 — tuesday
29 SEPTEMBER 2021 — wednesday
30 SEPTEMBER 2021 — thursday