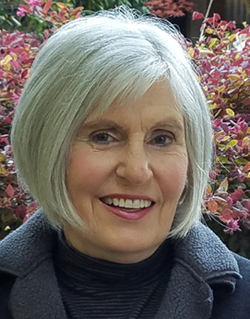 Judy Maher
Grace Marie Grafton and Judy Maher
8 AUGUST 2019 — thursday
Poetry Flash presents a poetry reading by Grace Marie Grafton, Lens, and Judy Maher, Dear Circus God, Moe's Books, 2476 Telegraph Avenue, Berkeley, wheelchair accessible, 7:30 (510/849-2087, www.moesbooks.com)


MORE ABOUT THE READERS
Grace Marie Grafton's new book of poems is Lens. Tobey Hiller says, "The book is a paean to the nature and majesty of California, to the peoples and animals that have lived within her changing, rich landscape, and to the importance of knowledge, contemplation, and art." She is the author of six previous books of poems, including Jester; Whimsy, Reticence and Laud; and Other Clues. Widely published in literary journals and anthologies, she has also taught for thirty years through the California Poets in the Schools program, winning twelve Artist in Residence grants from the California Arts Council for her teaching. She was awarded "Teacher of the Year" by the River of Words Poetry & Art Competition for K-12 students, sponsored by Robert Hass.
Judy Maher's debut collection is Dear Circus God. Her book is divided into four sections, beginning with circus metaphors and ending at new starting points, with poems of humor and compassion throughout. Born in Asheville, North Carolina to a minister father, she lived with her family in many temporary homes across the country; then she travelled more with her husband, including a three-year adventure in Saudi Arabia. Having raised two children, they've since settled in Oakland, where she's blossoming as a poet.