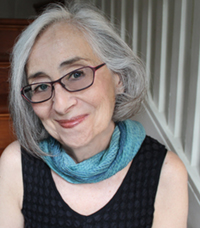 Marcia Falk
Marcia Falk and Steven Rood
24 NOVEMBER 2019 — sunday
Poetry Flash presents a poetry reading and powerpoint presentation of artwork by Marcia Falk, Inner East: Illuminated Poems and Blessings, Steven Rood, I Say Your Name, also reads, East Bay Booksellers, 5433 College Avenue, Oakland, wheelchair accessible, 3:00 (510/653-9965, ebbooksellers.com)


MORE ABOUT THE READERS
Marcia Falk's new book is Inner East: Illuminated Poems and Blessings, which contains her own artwork side-by-side with her poetry and new blessings in English and Hebrew. She will be showing images of the artwork with her poetry at this event. Mark Podwal, artist and scholar of Jewish culture, says, "Inner East is a symbiosis of word and image…Falk's beautiful visual images are poems in paint that do not merely illustrate her written words but illuminate them." A Fulbright Scholar at the Hebrew University in Jerusalem, she returned there four years later as a Postdoctoral Fellow. Among her many other books are The Days Between: Blessings, Poems, and Directions of the Heart for the Jewish High Holiday Season and The Book of Blessings: New English Prayers for Daily Life, the Sabbath, and the New Moon Festival. She is also the author of a classic verse translation of the biblical Song of Songs, The Song of Songs: Love Lyrics from the Bible, about which Adrienne Rich said, "it's always a thrill when (as rarely happens) the scholar's mind and the poet's soul come together." A translator from Yiddish as well, she's published The Spectacular Difference: Selected Poems of Zelda, poetry of the twentieth century mystic, Zelda Schneurson Mishkovsky, and With Teeth in the Earth, poems of the Yiddish modernist Malka Heifetz Tussman.
Steven Rood's debut book of poems is I Say Your Name, devoted to the memory of both the late, great poet Jack Gilbert and Rood's own psychotherapist. For these many years he's been a member of the writing workshop that Gilbert founded at San Francisco State in 1967, and he was a primary caregiver of Gilbert's during his last Alzheimer days.