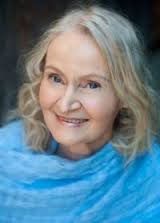 Ellery Akers
Ellery Akers and Barbara Berman
9 JANUARY 2020 — thursday
Poetry Flash presents a book launch reading by poet and artist Ellery Akers, Swerve: Environmentalism, Feminism, and Resistance, with poet and reviewer Barbara Berman, Currents, Moe's Books, 2476 Telegraph Avenue, Berkeley, wheelchair accessible, 7:30 (510/849-2087, www.moesbooks.com)


MORE ABOUT THE READERS
Ellery Akers's new book of poems is Swerve: Environmentalism, Feminism, and Resistance. Joseph Stroud says, "Swerve is a book that confronts the primary issues of the twenty-first century with insight and candor, along with hope and courage." Her first collection, Knocking on the Earth, was named a San Jose Mercury News Best Book of the Year, and her second, Practicing the Truth, won the 2014 Autumn House Poetry Prize, a 2015 Independent Publisher Book Award, and the 2015 Bay Area Book Festival Award. She's won thirteen national writing awards, including the John Masefield and Paumanok Awards. Her play, Letters to Anna, won a Dominican University One Act Play Award, and she's also the author of a children's novel, Sarah's Waterfall: A Healing Story About Sexual Abuse.
Barbara Berman's debut book of poems is Currents. Eavan Boland says, "The reach of these graceful, ambitious poems ranges across stars, cities, storms. Their music is both political and deeply private, braiding the two undersongs together in challenging and sometimes wrenching poetry." She is also the author of the chapbook The Generosity of Stars. Organizer of one of the first independent press festivals in the country in Washington, D. C. in 1979, she currently reviews poetry for The Rumpus.