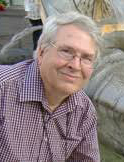 Alan Williamson
Alan Williamson and Jeanne Foster
23 JANUARY 2020 — thursday
Poetry Flash presents a reading by Alan Williamson, reading from his brand new collection of poetry, Franciscan Notes, with Jeanne Foster, Goodbye, Silver Sister, Moe's Books, 2476 Telegraph Avenue, Berkeley, wheelchair accessible, 7:30 (510/849-2087, www.moesbooks.com)


MORE ABOUT THE READERS
Alan Williamson's new book of poems is Franciscan Notes. Kevin McIlvoy says, "It is impossible to leave Alan Williamson's Franciscan Notes without experiencing the inmost smile that is the response of the body and mind to intimate, authentic truth-telling." Author of many previous poetry collections and several books of criticism, he has won fellowships from the National Endowment for the Arts and the Guggenheim Foundation, and he has been a poetry panelist for both the National Endowment for the Arts and for the Pulitzer Prize.
Jeanne Foster's most recent book of poems is Goodbye, Silver Sister; her previous collections are Great Horned Owl and A Blessing of Safe Travel. Widely published in literary journals, she's published recent work in the Southern Review. Both are translators, and they recently did a joint translation of the Italian poet and novelist Bianca Tarozzi's selected poems titled The Living Theatre, which won the Northern California Book Award for Translation in Poetry.