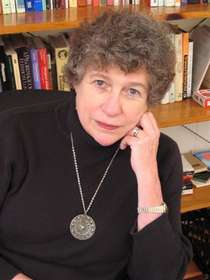 Sandra Gilbert
Photo: Peter Basmajian
Wendy Barker and Sandra M. Gilbert
26 JANUARY 2020 — sunday
Poetry Flash presents a poetry reading by Wendy Barker, Gloss, and NCBA Cody Award-winner Sandra M. Gilbert, Judgment Day, East Bay Booksellers, 5433 College Avenue, Oakland, wheelchair accessible, 3:00 (510/653-9965, ebbooksellers.com)


MORE ABOUT THE READERS
Wendy Barker's brand new book of poems is Gloss. Vincent Toro says, "Wendy Barker's Gloss utilizes the lyric form to conduct an archaeological dig, a profound excavation. With wit and candor, the poet unspools the narrative of three generations of women to create a family portrait that is vivid, complex, and sometimes shocking." Her sixth collection, One Blackbird at a Time, won the John Ciardi Prize for Poetry. With Dave Parsons, she co-edited the anthology Far Out: Poems of the '60s. Among other books, she authored a selection of translations from the work of Rabindranath Tagore, Final Poems, co-translated with Saranindranath Tagore, and co-edited The House is Made of Poetry: The Art of Ruth Stone, with Sandra M. Gilbert. Among other honors, her poems appeared in The Best American Poetry 2013, and she's received fellowships from the National Endowments for the Arts and the Rockefeller Foundation.
Sandra M. Gilbert's new book of poems is Judgment Day. Eavan Boland says, "Unswerving perspectives on beauty and pain—on age, and loss—give grace and surprise to each page. …These intimate, moving, meticulously crafted poems will stay with the reader for a long time." She has published many previous collections, including Kissing the Bread: New and Selected Poems, 1969-1999, Ghost Volcano: Poems, and Blood Pressure. As well as a distinguished, prolific poet, she is also an acclaimed critic and editor. In 1979, she and her collaborator Susan Gubar published The Madwoman in the Attic: The Woman Writer and the Nineteenth-Century Literary Imagination, widely recognized as a central text of second-wave feminism. The two co-authored and co-edited numerous other celebrated volumes. She herself edited the recently published Essential Essays: Culture, Politics, and the Art of Poetry, the career-spanning prose of Adrienne Rich. Gilbert has received many honors in her career: notable recently are the National Book Critics Circle's Ivan Sandrof Lifetime Achievement Award (with Gubar), and she herself received the Fred Cody Award for Lifetime Achievement at the 2019 Northern California Book Awards.