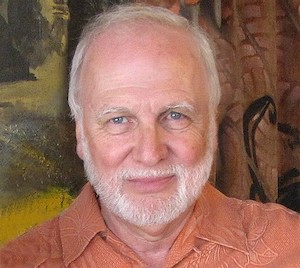 David Alpaugh
David Alpaugh and Connie Post
9 FEBRUARY 2020 — sunday
Poetry Flash presents a poetry reading by David Alpaugh, Spooky Action at a Distance, and Connie Post, Prime Meridian, East Bay Booksellers, 5433 College Avenue, Oakland, wheelchair accessible, 3:00 (510/653-9965, ebbooksellers.com)


MORE ABOUT THE READERS
David Alpaugh's new book of poems is Spooky Action at a Distance. Kathleen Lynch says, "David Alpaugh's Spooky Action at a Distance offers readers a cornucopia of delights, complications, and some truly moving insights—all in an intriguing new form of his own invention. Alpaugh's double-title form shows how two titles can be separate, like two photons miles apart, yet 'entangled' in meaning and intent." He's published several previous collections, and his first, Counterpoint, won the Nicholas Roerich Poetry Prize from Story Line Press. His essays on poetry have appeared in Poets & Writers Magazine, Rattle, and Chronicle of Higher Education, and his musical play, Yesteryear: 3 Days in Paris with François Villon, was recently published in Scene4. Originally from New Jersey, he's now sufficiently "Californianized" to have been published in the anthology California Poetry from the Gold Rush to the Present and to have been a finalist for laureate of the state.
Connie Post's new book of poems is Prime Meridian. Dean Rader says, "In poems both personal and political, Post manages to connect physical and geological ailments by way of her spare but unsparing lyrics. This is an important collection everyone should be reading." Her first full-length collection, Floodwater, won the Lyrebird Award. Others include the Crab Creek Review Poetry Award, The Caesura Poetry Award, and the Cover Prize. From 2005 to 2009 she served as the first Poet Laureate of Livermore, California.