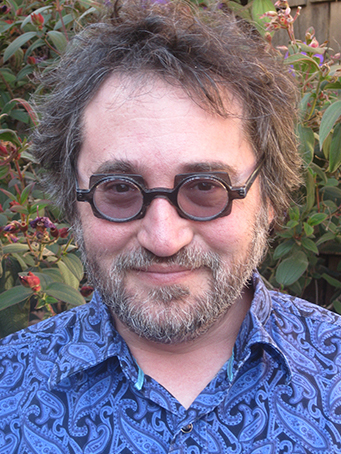 Hugh Behm-Steinberg
Hugh Behm-Steinberg and Sarah Kobrinsky
9 APRIL 2020 — thursday
This event is postponed. Check back for updates. Poetry Flash presents a poetry reading by Hugh Behm-Steinberg, Animal Children, and Sarah Kobrinsky, Nighttime on the Other Side of Everything, Moe's Books, 2476 Telegraph Avenue, Berkeley, wheelchair accessible, 7:30 (510/849-2087, www.moesbooks.com)


MORE ABOUT THE READERS
Hugh Behm-Steinberg's new book of poems is Animal Children. Maxine Chernoff says, "Like Ovid, Hugh Behm-Steinberg is preoccupied with transformation and resolution, the many complications of life negotiated with gentleness and humor in his prose poem collection, Animal Children. For any problem that presents itself, there is an imaginative way out in these contemporary fables.…It is a poetry of connection with many resolutions partaking in love and ingenuity." His two previous collections are Shy Green Fields and The Opposite of Work. Widely published in literary journals, he won the Barthelme Prize for short fiction in 2015 for his short story "Taylor Swift." A former Wallace Stegner Fellow at Stanford University, he was also the recipient of an NEA fellowship.
Sarah Kobrinsky's debut book of poems is Nighttime on the Other Side of Everything. Jill McDonough says, "In Nighttime on the Other Side of Everything, Sarah Kobrinsky opens with a brief meditation on the imposter syndrome that also speaks to where all poems come from, anyway. Elsewhere we read 'I make. I tinker. I create. An instinct born/of my blueprints, deep within my DNA.' But these poems also come from us, from knowing what people say about kids looking like the milkman, pranks like TP-ing houses and tying shoelaces together, a recognizable rhythm of punchlines." Born in Canada, raised in North Dakota, seasoned in England, and tempered in California, she was the Poet Laureate of Emeryville 2013-2015.