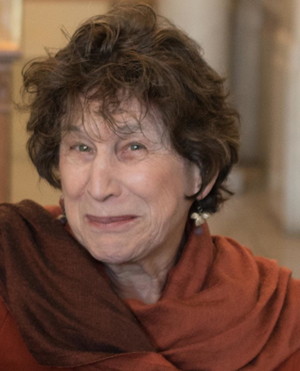 Meryl Natchez
Meryl Natchez and Dion O'Reilly
23 APRIL 2020 — thursday
This event is postponed. Check back for updates. Poetry Flash presents a poetry reading by Meryl Natchez, Time Crunch, and Dion O'Reilly, Ghost Dogs, Moe's Books, 2476 Telegraph Avenue, Berkeley, wheelchair accessible, 7:30 (510/849-2087, www.moesbooks.com)


MORE ABOUT THE READERS
Meryl Natchez's brand new book is Catwalk. David St. John says, "There is an enviable muscle to these lyrical meditations.…," and Lynn Emanuel writes, "The things of and in these poems carry all we know of joy and sorrow." Meryl Natchez's previous collection of poems is Jade Suit. Her books include a bilingual volume of translations from the Russian, Poems From the Stray Dog Café: Akhmatova, Mandelstam and Gumilev. She is also co-translator of Tadeusz Borowski: Selected Poems. Her work has appeared in Hudson Review, Poetry Northwest, The American Journal of Poetry, ZYZZYVA, The Pinch Literary Review, Atlanta Review, Lyric, The Moth, Comstock Review, and elsewhere. She is on the board of Marin Poetry Center and blogs at www.merylnatchez.com.
Dion O'Reilly's brand new book is Ghost Dogs. Ellen Bass says, Ghost Dogs, Dion O'Reilly's fine first poetry collection, will haunt you the way art should. Bristling with pain, wit, desire, and tenderness, these poems investigate not only "the daily harms" of an abusive childhood, but the deep solace non-human animals can offer.…She doesn't sugarcoat or flinch from suffering—her own or others'—she transforms it. Line by crackling line, image by unforgettable image." Dion O'Reilly has spent much of her life on a farm in the Santa Cruz Mountains. She has worked as a waitress, barista, baker, theater manager, graphic designer, and public school teacher. Her poetry has appeared in New Ohio Review, Sugar House Review, Rattle, The Sun, Massachusetts Review, New Letters, Bellingham Review, Atlanta Review, Catamaran, and elsewhere.