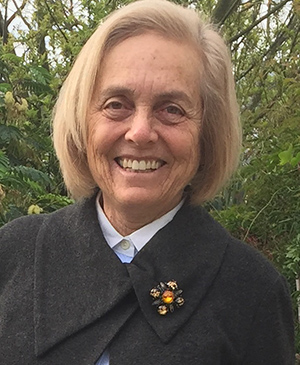 Gail Newman
Gail Newman and Cecilia Woloch
6 SEPTEMBER 2020 — sunday
Poetry Flash presents a virtual poetry reading by Gail Newman, Blood Memory, and Cecilia Woloch, Tsigan: The Gypsy Poem, online via Zoom, free, 3:00 pm PDT (Register to attend: please click here; you will receive an email with a link and information on how to join the reading)


MORE ABOUT THE READERS
Please join us for a Poetry Flash virtual reading on Sunday, September 6 at 3:00 pm PDT! We are excited to bring you Gail Newman and Cecilia Woloch via Zoom. To register for this reading, please click here. After you register, you will receive an email with a link and information on how to join the reading. Thank you for continuing to support Poetry Flash and our reading series during these unprecedented times.

Gail Newman's brand new collection—Blood Memory—was chosen by Marge Piercy for the Marsh Hawk Press Poetry Prize. Her previous book of poetry is One World. A child of Polish Holocaust survivors, Gail Newman was born in a Displaced Persons' Camp in Lansberg, Germany. Her family immigrated to the United States and settled in Los Angeles. Ellen Bass says of the new book, "The very unspeakability of the Holocaust can make writing about it fraught. Gail Newman…transcends the difficulty in her vital new collection, Blood Memory, by telling her parents' stories—the story of millions—in tender, particular detail. Newman doesn't flinch from brutality, yet she has achieved something extraordinary.…Despite the darkness, the light of the living shines through." Her poems have appeared in journals including Nimrod International Journal, Prairie Schooner, and Spillway, and in anthologies including The Doll Collection, Ghosts of the Holocaust, and America, We Call Your Name. Her poem "Mishpacha" was recently awarded first prize by Nikole Brown in the Bellingham Review 49th Parallel Poetry Contest. The co-founder and editor of Room, A Women's Literary Journal, she has also edited two children's poetry collections, C is for California and Dear Earth.

Cecilia Woloch's most recent book Tsigan. Carol Muske-Dukes says, "I can't think of anyone who writes like Cecilia Woloch. In Tsigan: The Gypsy Poem, she reinvents herself as a Gypsy fire of language, a "single word" set flaming as a daring, dancing, lyric conflagration in the reader's hand." Cecilia Woloch has published six collections of poems and a novel, as well as essays and reviews. Tsigan, her second collection, originally appeared in 2002 from Cahuenga Press, was published in French translation as Tzigane, le poème, Gitan, by Scribe-l'Harmattan in 2014, and was issued in an expanded and updated English edition by Two Sylvias Press in 2018. The final poem (in the new edition) is featured in Daniel Libeskind's commemorative exhibit at Auschwitz-Birkenau. The text of Tsigan has also been the basis for multi-lingual, multi-media performances across the U.S. and Europe. Her honors include fellowships from the Fulbright Foundation, the National Endowment for the Arts, CEC/ArtsLink International, and the Center for International Theatre Development; her work has also received a Pushcart Prize and been included in the Best American Poetry Series and in numerous anthologies. Based in Los Angeles, Cecilia Woloch has traveled the world as a teacher and writer.