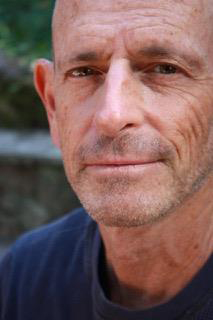 Eliot Schain
Ken Haas, Erin Rodoni, Eliot Schain
27 SEPTEMBER 2020 — sunday
Poetry Flash presents a virtual poetry reading and discussion on the theme of "Love Poems and Why Now," with Eliot Schain, The Distant Sound, Erin Rodoni, Body, in Good Light, and Ken Haas, Borrowed Light, online via Zoom, free, 3:00 pm PDT (Register to attend: please click here; you will receive an email with a link and information on how to join the reading)


MORE ABOUT THE READERS
Please join us for a Poetry Flash virtual event on Sunday, September 27 at 3:00 pm PDT! We are excited to bring you "Love Poems and Why Now," a poetry reading and discussion with Ken Haas, Erin Rodoni, and Eliot Schain via Zoom. To register for this event, please click here. After you register, you will receive an email with a link and information on how to join the reading. Thank you for continuing to support Poetry Flash and our reading series during these unprecedented times.

Eliot Schain's new collection is The Distant Sound. D. Nurkse said of it, "Eliot Schain is a treasure—a poet with a sharp edge and a broad canvas. Some artists have irony, some have vision; Schain has both and tests them against each other with fire and wit. The results are wild, beautiful, and necessary." Eliot Schain's previous books include American Romance (Zeitgeist Press) and Westering Angels (Small Poetry Press). His poetry has appeared in Ploughshares, American Poetry Review, Santa Monica Review, Another Chicago Magazine, and Miramar, among other journals, as well as in two anthologies: The Place That Inhabits Us: Poems of the San Francisco Bay Watershed, and Christopher Buckley and Gary Young's Bear Flag Republic: Prose Poems and Poetics from California.

Ken Haas's first full-length collection, Borrowed Light, won the 2020 Red Mountain Press Discovery Award. Ellen Bass said, "…Ken Haas's first collection of poems…is complex, vibrant, capacious and wildly imaginative. With affection and wonderful clarity, Haas describes a childhood of 'taking infield practice and shagging flies,' Atlantic City's 'sunburn and saltwater taffy,' a trip into Manhattan to see the legendary John Coltrane, who 'emptied his arms in a wave that even now speaks to the kind of man I could become.' But it would be a mistake to call this book nostalgic. Haas is keenly aware of the darker forces of history. The same Antisemitism that forced his grandparents to flee Nazi Germany is alive and well today—'we just forgot that shirt-wise brown is brown, words do burn, and we can see the rest from here.' Yet what emerges overall is a celebration of the immigrant." His work has appeared in over fifty literary magazines, journals, and anthologies. He has been nominated for a Pushcart Prize and received the Betsy Colquitt Poetry Award.

Erin Rodoni is the author of two poetry collections: Body, in Good Light (Sixteen Rivers Press, 2017) and A Landscape for Loss (NFSPS Press, 2017, winner of the Stevens Award). Her forthcoming collection, And if the Woods Carry You, won the 2020 Southern Indiana Review Michael Waters Poetry Prize and will be published next year. Ilya Kaminsky said, "I love how wisdom enters the moment of passion in these poems, where we see ourselves living here, on this earth, 'believing // in these bodies.' This is a marvelous debut." Her poems have appeared in Poetry Northwest, Blackbird, Colorado Review, Best New Poets, and The Adroit Journal, among others. Her honors include The Montreal International Poetry Prize, the Ninth Letter Literary Award, and an AWP Intro Journals Award.