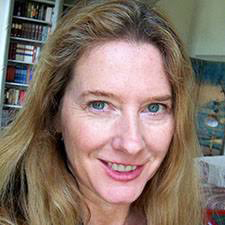 Kathleen Winter
Kathryn Nuernberger and Kathleen Winter
15 NOVEMBER 2020 — sunday
Poetry Flash presents a virtual poetry reading by Kathryn Nuernberger, RUE and Kathleen Winter, Transformer, online via Zoom, free, 3:00 pm PST (Register to attend: please click here; you will receive an email with a link and information on how to join the reading)


MORE ABOUT THE READERS
Please join us for a Poetry Flash virtual event on Sunday, November 15 at 3:00 pm PST! We are excited to bring you a poetry reading by Kathryn Nuernberger and Kathleen Winter via Zoom. To register for this event, see the link in the event listing above. After you register, you will receive an email with a link and information on how to join the reading. Thank you for continuing to support Poetry Flash and our reading series during these unprecedented times.

This event is co-sponsored by Moe's Books, Berkeley. To purchase new books by these poets, go to: https://bookshop.org/lists/poetry-flash-readings

Kathryn Nuernberger's new poetry collection is RUE. Traci Brimhall says, "Kathryn Nuernberger's remarkable collection RUE asks what it means to know another person, how imagination and action intersect to shape our experiences of love and desire.…Among the book's questions concern the female body—who gets to control it and how, who imperils it and under what guise of professionalism or friendship, and what flowers let women control it for themselves." Nuernberger is also the author of The End of Pink, Rag & Bone, and the essay collections Brief Interviews with the Romantic Past and The Witch of Eye (forthcoming from Sarabande in 2021). Her awards include the James Laughlin Prize from the Academy of American Poets, an National Endowment for the Arts fellowship, and "notable" essays in the Best American series.

Kathleen Winter's new collection is Transformer. Dean Rader says, "…Kathleen Winter moves between the past and the present by magically weaving moments from her own life with those of figures like Henry VIII, John the Baptist, Wolfgang Beurer, and Hieronymus Bosch. That global vision extends to the settings of the poems as well.…Just as the poems travel through cities and countries, so too do they venture through a vast terrain of poetic forms and an array of emotional landscapes. Like the best journeys, everything in this book feels fresh yet purposeful. A tour de force, Transformer is a masterpiece of literary accomplishment." Winter's second book, I will not kick my friends, won the 2017 Elixir Poetry Prize, and her first book, Nostalgia for the Criminal Past, won the 2013 Texas Institute of Letters Bob Bush Award and the Antivenom Prize. Her awards include the Rochelle Ratner Memorial Prize and the Poetry Society of America's The Writer Magazine/Emily Dickinson Award. She is an associate editor with 32 Poems Magazine and teaches creative writing at Sonoma State University and Napa Valley College.