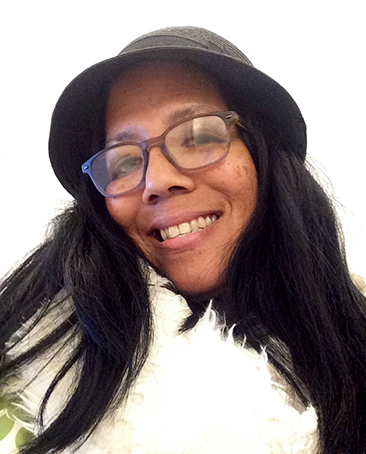 Maw Shein Win
Amy Gerstler and Maw Shein Win
22 NOVEMBER 2020 — sunday
Poetry Flash presents a virtual poetry reading by Maw Shein Win, Storage Unit for the Spirit House and Amy Gerstler, Scattered at Sea, online via Zoom, free, 3:00 pm PST (Register to attend: please click here; you will receive an email with a link and information on how to join the reading)


MORE ABOUT THE READERS
Please join us for a Poetry Flash virtual event on Sunday, November 22 at 3:00 pm PST! We are excited to bring you a poetry reading by Maw Shein Win and Amy Gerstler via Zoom. Click here to register for this event. After you register, you will receive an email with a link and information on how to join the reading. This reading is co-sponsored by Moe's Books, Berkeley and the books will be available for purchase with a link to https://bookshop.org/lists/poetry-flash-readings. Thank you for continuing to support Poetry Flash and our reading series during these unprecedented times.

Amy Gerstler's forthcoming poetry collection is Index of Women, her previous book is Scattered at Sea, longlisted for the 2015 National Book Award for Poetry, and a finalist for the Los Angeles Times Book Prize and the Kingsley Tufts Poetry Award. Wendy Willis wrote of it in the Los Angeles Review of Books, "Scattered at Sea got under my skin in ways that I did not expect…[these poems] have a heart of sense-making. And that impulse toward gathering meaning from the shards of chaos is sorely needed in this particular poetic and political moment…[Gerstler] reminds us of the struggle to be human in a capricious world." She is the author of ten previous poetry collections, including Bitter Angel, which won the National Book Critics Circle Award, and Crown of Weeds, which won a California Book Award. Gerstler is a writer of poetry, nonfiction and journalism who lives in Los Angeles. Her poems have appeared in The New Yorker, The Paris Review, American Poetry Review, and several volumes of Best American Poetry. She teaches in the Graduate Fine Arts Department at Art Center, College of Design, in Pasadena, California.

Maw Shein Win's new collection is Storage Unit for the Spirit House. D.A. Powell wrote of it, "Poetry has long been a vessel, a container of history, emotion, perceptions, keepsakes. This piercing, gorgeous collection stands both inside and outside of containment: the porcelain vase of stargazer lilies is considered alongside the galley convicts, the children sleeping on the cement floors of detention cells, the nats inside their spirit houses; the spirit houses inside their storage units. 'The soft part of the brain fits into a clear jar.' One observes, in these nestings and inclusions, dioramas and offices, the human eye peering out and peering in: 'I witness each body through the missing bricks.' These poems are portals to other worlds and to our own, a space in which one sees and one is seen. A marvelous, timely and resilient book."
Maw Shein Win's previous collections include Invisible Gifts: Poems; her chapbooks include Ruins of a glittering palace and Score and Bone. She is the inaugural Poet Laureate of El Cerrito (2016–2018). She lives and teaches in the San Francisco Bay Area.